It's August, and while it may seem like summer is winding down, it's really just getting started. There is still plenty of time left for patio lounging and cookouts, making it the perfect time to take a look at your patio and make some choices regarding your style and furniture. We're doing a deep dive into everything you need to know about patio furniture materials and tips on what you can do to protect your patio furniture, Classic Accessories' guide to "all-things patio furniture," if you will.
Know The Material
In the patio furniture world, seven main types of material exist for your patio furniture, each one differing from the others in aesthetics, movability, durability, ease of maintenance, and comfort, as well as what climates/regions they're best suited for:
Aluminum
Steel
Resin Wicker
Wood
Wrought Iron
PVC (Poly-vinyl chloride)
Plastic
Note: Mosaic is sometimes included in common patio furniture materials lists. It is not a material, but rather a construction pattern. Mosaic surfaces are common on tables and chairs, and often combine elements of other materials in its creation. If you are interested in mosaic patio furniture you can check out Patio, Home, and Garden's product page for mosaic furniture.
For this post we decided to use a scoring system for each one of the factors listed above to give each material a total score. At the end of the day, though, it's up to you to decide what material you like best, but keep in mind the climate of where you live, as some materials are better suited for some climates than others.
Aluminum

Aesthetics
Aluminum patio furniture comes in a variety of styles and can be as basic or as elegant as you would like. With aluminum patio furniture, you have the option of selecting from three different builds: tubular, cast, or wrought. Tubular aluminum furniture is made from hollow pieces of aluminum bent into shape, according to Better Homes & Gardens. Wrought and cast aluminum differ in their construction processes, as wrought material is welded by hand, whereas cast material is made from a cast without manual welding or handling.
Cast aluminum furniture is growing in popularity, according to this HGTV article, due to its contemporary style. Unlike cast iron patio furniture, which traditionally has more classic and elegant aesthetics, cast aluminum furniture can take on any style you desire. You can also purchase aluminum furniture in in a variety color schemes, whereas wrought iron and wood, for instance, generally do not have this option. Check out these products for great cast aluminum outdoor furniture.
Score: 18/20

Movability
The second major selling point for cast aluminum furniture, or really any aluminum outdoor furniture, is its movability. Aluminum is both lightweight and strong. Thus, it can easily be rearranged and fit into small spaces, as opposed to its bulky cast iron and steel counterparts. Full sets including tables are also easy to rearrange to your liking. Here are some great sets of cast aluminum patio furniture.
Score: 19/20

Durability
Durability is another fantastic feature of aluminum patio furniture. Since aluminum naturally does not rust, it is perfect for hot and humid regions and climates. Aluminum can corrode. Corrosion is a form of oxidation similar to rusting that leaves a light coating on the aluminum that protects the material from future corrosion, according to theruststore.com. To limit corrosion, though, as it fades the material's color over time, most aluminum patio furniture comes with a powder coating that adds extra protection.
One downside to aluminum patio furniture is that it less likely to be durable enough to withstand heavy winds, especially because of its light weight, making aluminum patio furniture not the best selection for very windy environments or regions.
Score: 18/20

Maintenance
Aluminum patio furniture maintenance is quick, easy, and less frequent (compared to other types of patio furniture). The Home Depot recommends using car wax or mineral oil on the surface for added protection, as well as regularly cleaning with mild soap and water. When your aluminum patio furniture has corroded, though, here's an article for caring for the furniture, as well as a more patio-specific article.
Score: 18/20

Comfort
Tubular aluminum patio furniture will most likely not need cushions for comfort and extra support, as they are already built to be comfortable and ready to use. Some cast aluminum sets have built-in mesh seating, like these options. Other sets of aluminum patio furniture, like these Crosley sets, will need cushions (which can add a fun, creative element to your patio furnishing process).
For this type of furniture, our Mushroom or Spice Ravenna cushions, pictured above, are great color options.
Score: 20/20
The Weigh-In: Aluminum
Steel

Aesthetics
Steel has a sleek and modern look, but but less variety in build, style, and color than aluminum. Steel patio furniture works well with residential apartments and more modern spaces (cafes and restaurant patios often use steel furniture). Steel is also widely used as the foundation and/or frame for patio furniture with other materials making up the surface and seats. I give steel then a 16 for aesthetics since it doesn't have much variety or capacity for build, style, or color on its own, but does look nice when paired with other materials. Here are some examples of steel patio furniture, or furniture using steel as a foundational component.
Score: 16/20

Movability
Movability is a concern when it comes to steel patio furniture. Because steel furniture is built for added strength and reinforcement, transporting it or rearranging it can quickly become a hassle. Fortunately, most steel patio furniture comes assembled, at least according to The Home Depot, so the main hassle is getting it to where it needs to be.
Score: 14.5/20

Durability
Steel's strong suit comes in the form of durability. While steel is a rustable metal, it often comes with a powder coating similar to aluminum, according to Better Homes & Gardens, which can resist rusting. Steel, given its weight and sturdiness, is great for windy environments, and is especially well-suited for a cold and snowy climate, like the northern United States.
Score: 19/20

Maintenance
Caring for steel patio furniture requires a little bit more time than aluminum patio furniture because of steel's potential to rust. Some companies, such as Target, confirm their steel patio furniture is rust-resistant, but Lowes suggests applying a protective coat of paste wax or naval jelly if the product is not rust-free or rust-resistant. Also, washing occasionally with water and mild soap is good practice for steel patio furniture.
Score: 16.5/20

Comfort

Steel furniture can be constructed in a way to be comfortable alone. For those pieces that are more aesthetic than functional however, cushions can come in handy. For steel furniture, try Empire Blue Ravenna cushions, shown to the right.
Score: 16/20
The Weigh-In: steel
Resin Wicker

Aesthetics
Wicker furniture has a variety of designs and colors, both in cushions and in the actual material. A trending material, resin wicker has been a popular choice in patio furniture since the 2000's.
Score: 19.5/20

Movability
While it appears large and cumbersome, resin wicker patio furniture is surprisingly movable because of how lightweight it is, which makes for easy arrangement and/or rearrangement on the patio.
Score: 19/20

Durability
Durability is an aspect of wicker that is often underestimated and misunderstood. There is a difference between natural wicker and synthetic wicker, natural wicker being made from rattan, a reed-like material, and synthetic wicker being made from resin (liquids extracted from plant matter) according to patioproductions.com. The term "wicker" is also a term used in reference to a type of weave and the actual material is rattan or resin.
Natural wicker should not be used as outdoor patio furniture due to its susceptibility to most any weather condition, such as rain, sleet, or snow. Any form of moisture can damage it. However, synthetic wicker, or resin wicker, is the perfect material for all weather conditions. There are several types of synthetic resin wicker: PVC wicker, nylon, polyethylene, and High Density Polyethylene (HDPE) Wicker. According to Patio Productions, HDPE resin wicker is the most commonly recommended type as it is infused with UV inhibitors and made with a high density compound to protect its surface.
Score: 19.5/20

Maintenance
To maintain your resin wicker furniture, simply dust it occasionally and, if looking to do a deep clean of the wicker, use mild detergent and water. Here's a helpful article that looks into more cleaning specifics for resin wicker furniture.
Even though resin wicker furniture is all-weather, it's still a good idea to invest in a patio furniture cover (something we recommend). While covers really protect rustable steel and iron, covering your patio furniture regardless of furniture material is an investment that will increase the longevity of your furniture and patio greatly. Adding a cover to your resin wicker furniture will keep harsh weather and storms from weathering and doing incremental damage to the material, which is bound to happen–no material is indestructible. Furthermore, our covers provide protection from UV rays to avoid fading and also have built-in vents so condensation on your chairs and tables is ventilated.
Pro-tip: Never leave your cushions out on your furniture while it's covered, even if your cushions are all-weather. Having cushions underneath your furniture can lead to mildew and mold, even with vents in the cover.
Score: 20/20

Comfort
Most popular Resin Wicker styles typically come with cushions of some kind, making them comfortable. Others don't necessarily come with cushions but make use of the curvature of the furniture form and the natural give in the materials for comfort. If you're looking to up the comfort on up your resin wicker furniture, we recommend Mallard Green Ravenna cushions, shown below.
Score: 20/20 with cushions
The Weigh-In: Resin Wicker
Wood

Aesthetics
Wood patio furniture is aesthetically pleasing, particularly teak hardwood. Other types of wood for patio furniture include cedar, cypress, pine, oak, acacia, and eucalyptus. According to Better Homes & Gardens, teak, cedar, and ipe are a few of the strongest, most weather-resistant types. Teak is particularly commended for its beauty, and is one of the most popular patio furniture materials out there.
While wood does not give the owner/buyer as much freedom to personalize their patio furniture without cushions, wood can be painted and stained, which gives some room for custom flare and refinishing.
Score: 19/20

Movability
Wood patio furniture is a split between aluminum and steel in terms of movability. Some pieces of wood furniture will, of course, be easier to move than others (a chair can be light while a dining table will require at least two people). The material itself, though, is significantly heavier than aluminum or plastic.
Score: 16/20

Durability
Wood furniture, especially teak, is sturdy and durable against most weather. Teak produces a natural oil that prevents water and moisture from seeping into the wood and causing dry rot, a wood-destroying fungus. Here's an article on how to treat dry rot, if that's a current problem for your patio furniture.
During the winter months, it's advised for most wood furniture to be stored indoors to avoid damage. Teak is an exception mainly because of its natural oil that prevents water seepage, but keep in mind that a silvery patina fading will occur on your wooden patio furniture, even teak, if you keep any type of wooden patio furniture outside. Some like this accent on their wood furniture, but if you want to retain the original, honey color, consider using a cover.
UV rays also deal damage to wood patio furniture, causing fading, and humidity is known to cause warping in the wood, which makes one of our covers perfect to help keep UV rays at bay and excess moisture out.
Score: 16/20

Maintenance
As mentioned above, one of the best things you can do if you own or are looking to invest in wood patio furniture is purchase a cover or a cover set. Since teak is one of the few types of wood that you could leave outside year-round (and that is a stretch considering the silvery patina fading that can occur), wood patio furniture should definitely be covered.
Other useful tips to caring for your wood furniture are:
Scrub with a brush and mild soap
Dust off occasionally
Use teak sealer to preserve color and reduce greying
Score: 16/20

Comfort
Wood patio furniture alone can be less than comfortable given its solid nature and rigidity, but can be improved with the addition of cushions. Cushions can be a way to add a personal touch to the great, rustic look of your wood furniture on your patio.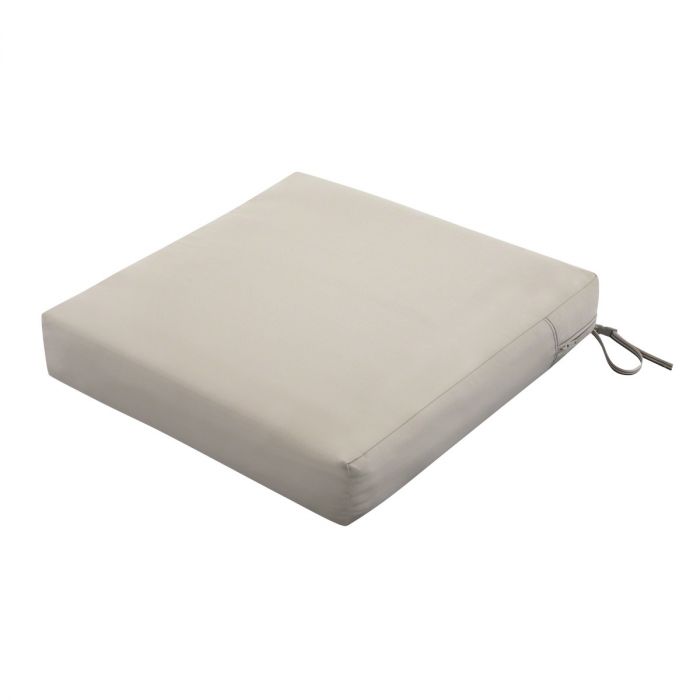 We recommend a soft accent of color for your cushion assortment on wood furniture. Check out the Mushroom color way in the Ravenna cushion collection for your wood patio furniture.
Score: 18/20
The Weigh-In: Wood
Wrought Iron

Aesthetics
Wrought iron is probably one of the best patio furniture selections for a classic aesthetic look, since it can come in a wide variety of designs and has historically been a very elegant and beautiful choice for an outdoor patio and/or garden. Wrought iron patio furniture is normally seen in bistro sets, benches, chairs, and tables. One setback to the aesthetic appeal of wrought iron patio furniture is that it normally only comes in black or grey and therefore does not have much variety in color. Here are some wrought iron pieces if you're interested in purchasing or upgrading your patio furniture.
Score: 17.5/20

Movability
Wrought iron is far heavier than aluminum, and is probably on or below par with the movability of wood furniture. Since wrought iron is commonly seen in bistro sets and not full dining sets, movability is more manageable, but moving a bulky bench or table can be a hassle.
Score: 14/20

Durability
Wrought iron is durable because of its strength and weight, which makes it perfect for windy regions. However, iron can rust and while, according to Lowes, "many modern metal frames are rust-resistant and rust-free," it's probably a good idea to apply paste wax or naval jelly, as referenced for steel furniture, to prevent rusting if you're furniture is not rust-free or rust-resistant.
Score: 15.5/20

Maintenance
To maintain wrought iron furniture, use the aforementioned rust-preventative measures, and also try sanding over rust spots that appear. Basic cleaning can be done with mild soap and water, but one caveat is that wrought iron furniture has a tendency to develop cracks after some time of use. To deal with these cracks, it's recommended to apply a paint coat, which may not resolve the issue totally.
Score: 15.5/20

Comfort
Wrought iron chairs, while aesthetically pleasing, are somewhat uncomfortable without the addition of cushions. For wrought iron, dark taupe cushions make for a subtle color accent.
Score: 15.5/20
The Weigh-In: Wrought Iron
Plastic

Aesthetics
While plastic furniture comes in a variety of colors, one of its main drawbacks is that its less aesthetically pleasing. It does not look as upscale or great as some of the other options we've looked at so far. Plastic furniture does, though, give the owner some flexibility location-wise. Since plastic is waterproof, putting plastic furniture poolside is a common spot, and because of its low price, restaurants and businesses tend to use plastic furniture outdoors. Some outdoor plastic furniture is also made of recyclable material, an added bonus if you're conscientious about the environment.
Score: 12/20

Movability
Plastic chairs and tables are lightweight and easy to move to suit the owner's needs. They are also normally constructed so that you can stack them easily.
Score: 20/20

Durability
Another setback for plastic furniture is its (lack of) durability against wind. While waterproof, the odds of your plastic furniture staying in place (or intact, for that matter) are low when dealing with serious weather.
Score: 10/20

Maintenance
Maintenance is a breeze if your plastic furniture is intact. Simply wash with a mild soap and rinse with water to clean these pieces.
Score: 20/20

Comfort
Plastic does not make for the most comfortable chairs out there, and while we reference cushions as a great way to add some comfort to your seating, cushions aren't normally used on plastic chairs. Plastic furniture can be great if you're using it for short periods or need to be able to sit relatively comfortably and relocate placement often.
Score: 12/20
The Weigh-In: Plastic
PVC (Poly-vinyl chloride)

Aesthetics
PVC patio furniture, like plastic, is not as aesthetically pleasing or of comparable quality to some of the other materials we've looked at. That said, PVC patio furniture is great for poolside lounging since it's waterproof. Common PVC furniture uses rubber, mesh, or cushioned seating between the PVC foundation, but there is not often a wide variety of colors to be explored as far as the furniture goes.
Score: 10.5/20

Movability
PVC is pretty movable since it's lightweight, but not as movable or lightweight as plastic furniture.
Score: 19.5/20

Durability
PVC won't rust, but UV exposure will begin to cause browning on its surface. While it's more durable than plastic when it comes to wind resistance, PVC patio furniture should still be stored indoors during the off-season or covered.
Score: 11/20

Maintenance
Easy to maintain by washing with soap and rinsing with water. May need additional maintenance with UV discoloration.
Score: 19/20

Comfort
On par with plastic furniture.
Score: 12/20
The Weigh-In: PVC
Final Standings
Overall

Aesthetics
Resin Wicker – 19.5
Wood – 19
Aluminum – 18
Wrought Iron – 17.5
Steel – 16
Plastic – 12
PVC – 10.5

Movability
Plastic – 20
PVC – 19.5
Resin Wicker (tie) – 19
Aluminum (tie) – 19
Wood – 16
Steel – 14.5
Wrought Iron – 14

Durability
Resin Wicker – 19.5
Steel – 19
Aluminum – 18
Wood – 16
Wrought Iron – 15.5
PVC – 11
Plastic – 10

Maintenance
Resin Wicker (tie) – 20
Plastic (tie) – 20
PVC – 19
Aluminum – 18
Steel – 16.5
Wood – 16
Wrought Iron – 15.5

Comfort
Resin Wicker (tie) – 20
Aluminum (tie) – 20
Wood – 18
Steel – 16
Wrought Iron – 15.5
Plastic – 12
PVC – 12
Most First Place Appearances:
Resin Wicker (98)
Most Last Place Appearances:
Wrought Iron and PVC
Median pick:
Steel
Solid Investments:
Aluminum, Wood