Why Cover A Boat or Personal WaterCraft?
Includes: Boats, Pontoon Boats, Personal Watercraft, Paddle Boards, and Kayaks
Jump to "How to Measure Boats or Personal Watercraft for a Cover"
Covering your boat is very similar to covering your car. A cover is an investment in maintaining your favorite method to get-out-on-the-water-now. Boat covers help your vessel stay at its best when high-and-dry. If covering your boat seems questionable, The IBoat Forum may be a good place to go to, to read through the debate from the perspective of boat owners.
A boat cover…
Deters theft
According to SavvyBoater.com, the top three items stolen from boats are electronics, outboards, and outdrives. Something about an open boat can attract people to either steal something or climb up into your property. A boat cover helps keep things secure and off-limits.
Protects against UV rays
Direct exposure to UV rays can cause fading and material deterioration. UV rays can damage a boat's paint, finish, and seating (vinyl). Covers, especially those with UV treatments, can block some of the light that does the most damage to these materials, increasing the longevity of your product (at its current exposure level).
Note: DO NOT cover a new boat or a boat that has recently been painted. Color from a cover can transfer to the fiberglass of a boat if the boat is new. Please wait 4 weeks before using a cover to allow the boat to fully settle. There are a variety of fiberglass cleaners in the market that will remove the color deposits, if such occur. It takes time for the chemicals to fully settle into place. The boat should not be covered for at least 2 months following a paint job. If you used a lacquer-based paint, never use a cover, it will end badly.
Keeps dust and debris at bay
Wind can blow dust, dirt, and debris against your boat, potentially causing weathering and scuffing.
Protects against minor dents and dings
Again, this won't save you from anything serious, but may help keep a brush against the boat from damaging the paint job.
Provides a way to keep maintenance time down
Covers take a bit of brunt of nature so that your boat doesn't have to. They are especially useful for helping with preventable seat and motor wear & tear.
Lessens cleaning time

By protecting your gear with a cover, you will not have to spend as much time cleaning your outdoor equipment at any given time of the year. Quicker to get out on the water and enjoy yourself!
Protects from water damage
Covers help limit water accumulation directly on the product, especially when the cover has water resistant or waterproof qualities. This can help prevent rust and corrosion. Standing water and moisture can lead to mildewing.*
Please always keep the bilge/boat drain plug open when you're on land, to allow for proper drainage of your vessel. Covers can limit new accumulation, but few are truly waterproof and water from rain can accumulate in the bottom of the boat. Keeping your boat unplugged is the best way to prevent this.

*Mildew (and mold) are fungi that occur due to the interaction between water and organic material. Covers are only able to help limit this and require some cleaning and ventilation, so that organic elements that have made their way onto your gear don't have a chance to grow.

Keeps critters away
Rodents and other pests are known to seek refuge in nooks and other odd places. Covers can make it more difficult for critters to find and nest in such crevices.
Maintains Yard Aesthetics
Covers provide a tidy, and pleasing look to your outdoor space by simplifying shapes.
Important note: if you choose to trailer a trailerable boat cover (not all covers are made to be trailered), please ensure that your boat is clean prior to installing the cover. The trailering straps on a dirty boat can rub against your boat's finish to an effect akin to sand paper (vibration between the strap and the boat with dirt, sand and salt particles caught between) causing marks on the boat's surface. For long trips regularly check your boat to make sure it is secure and properly fastened as straps can come loose. Check out this Mastercraft forum for more.
Boat Motors
Boat motors are susceptible to UV rays too, causing chipping and cracks. Even if you don't think a cover's right for you, we think that it's truly important to consider the upkeep of this element of your boat. Check out this video on boats.com to learn more about how to care for a boat motor. Motors may not be covered by our boat covers, due to the variability in size and location for motors. There are covers for outboard motors available on our site.
---
How to measure a Boat or Personal Watercraft for a cover
We recommend making this a two person job for safety's-sake. While it is a time-consuming process, we recommend measuring these products by hand so that you know the actual physical dimensions of the vessel; manufacturers will often include auxiliary elements in the estimated length, depending on how the item it to be towed.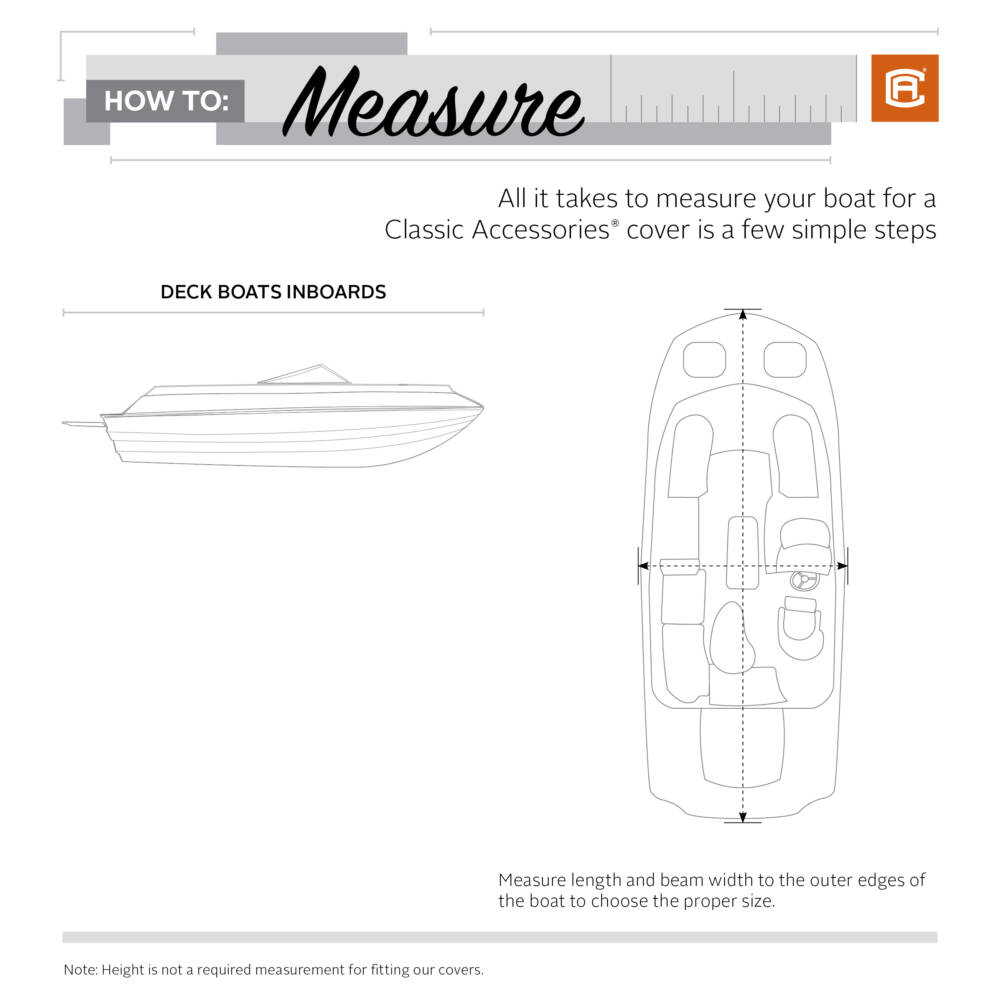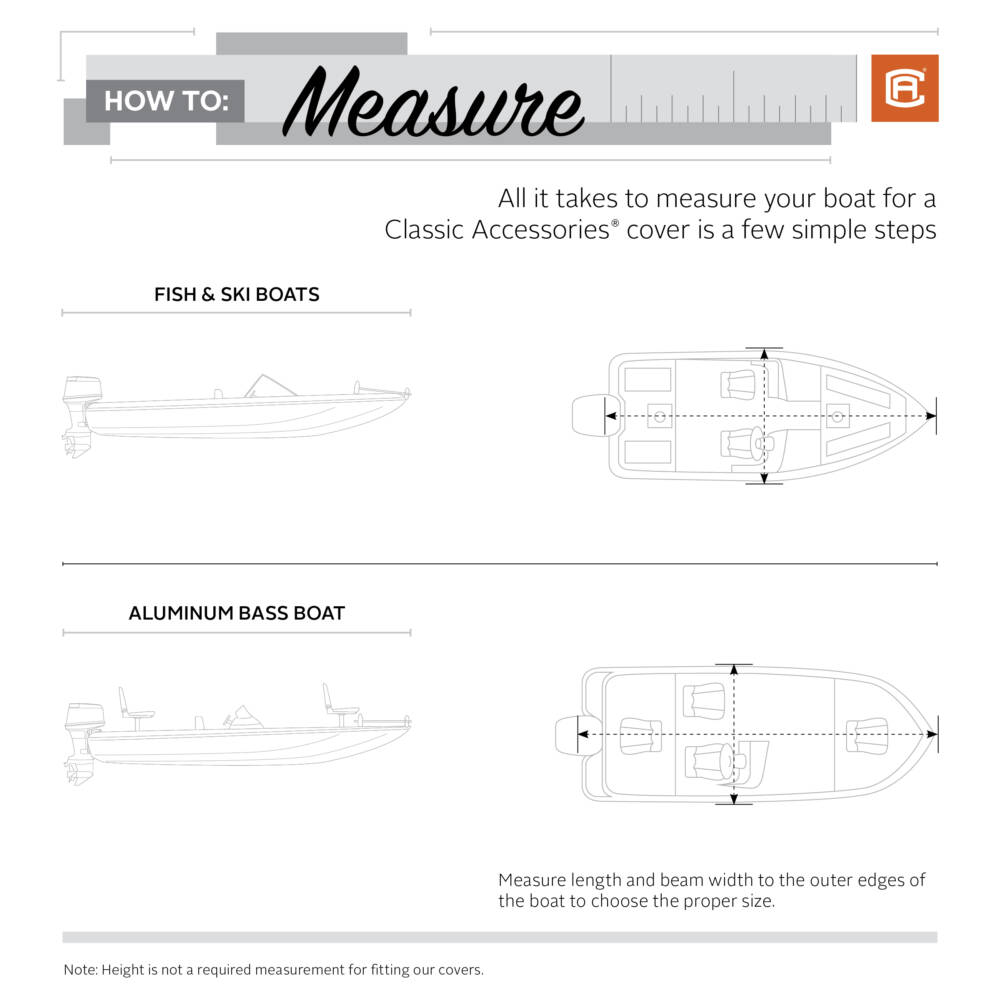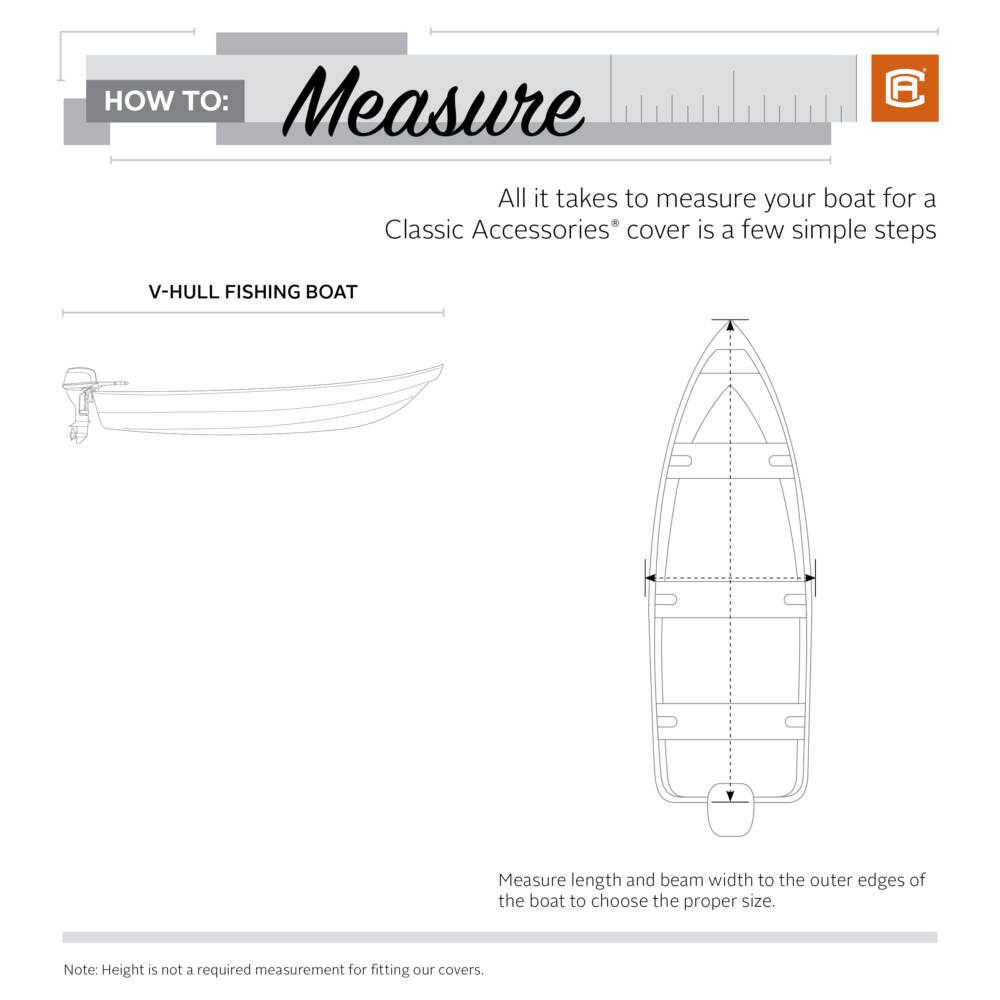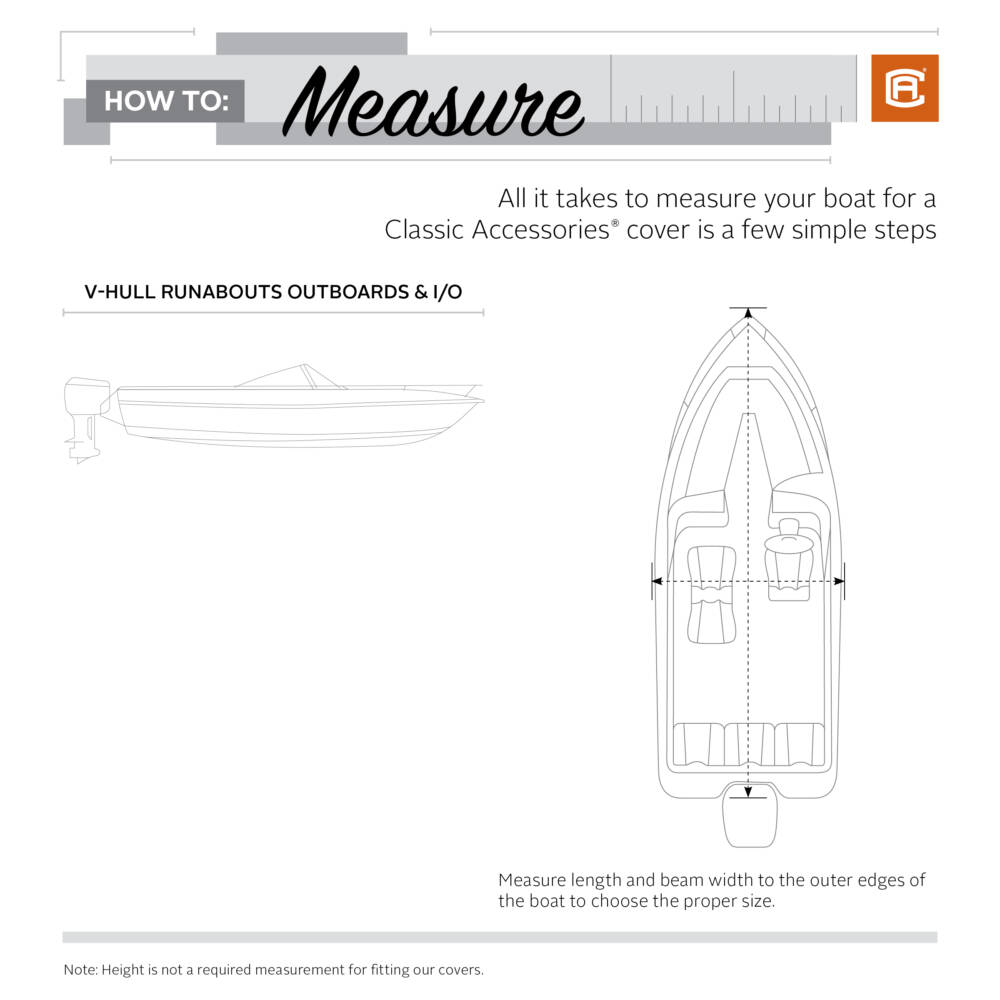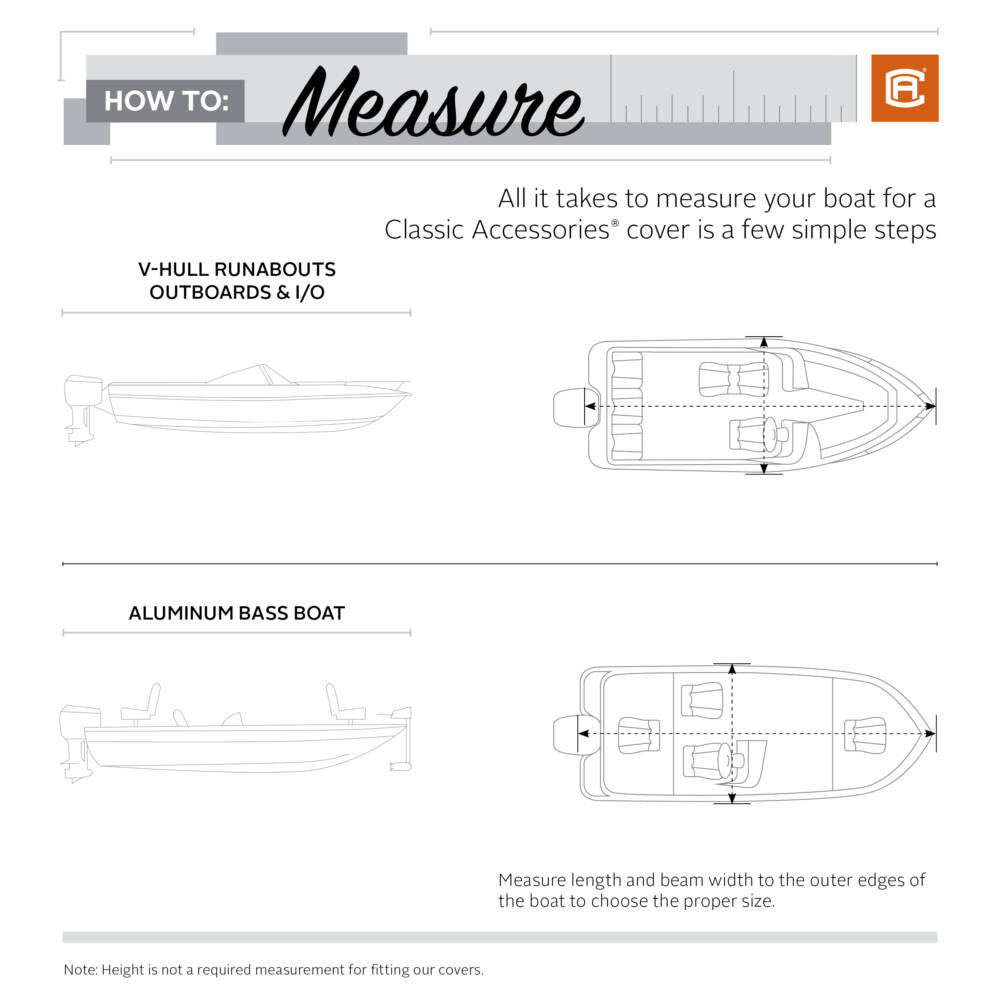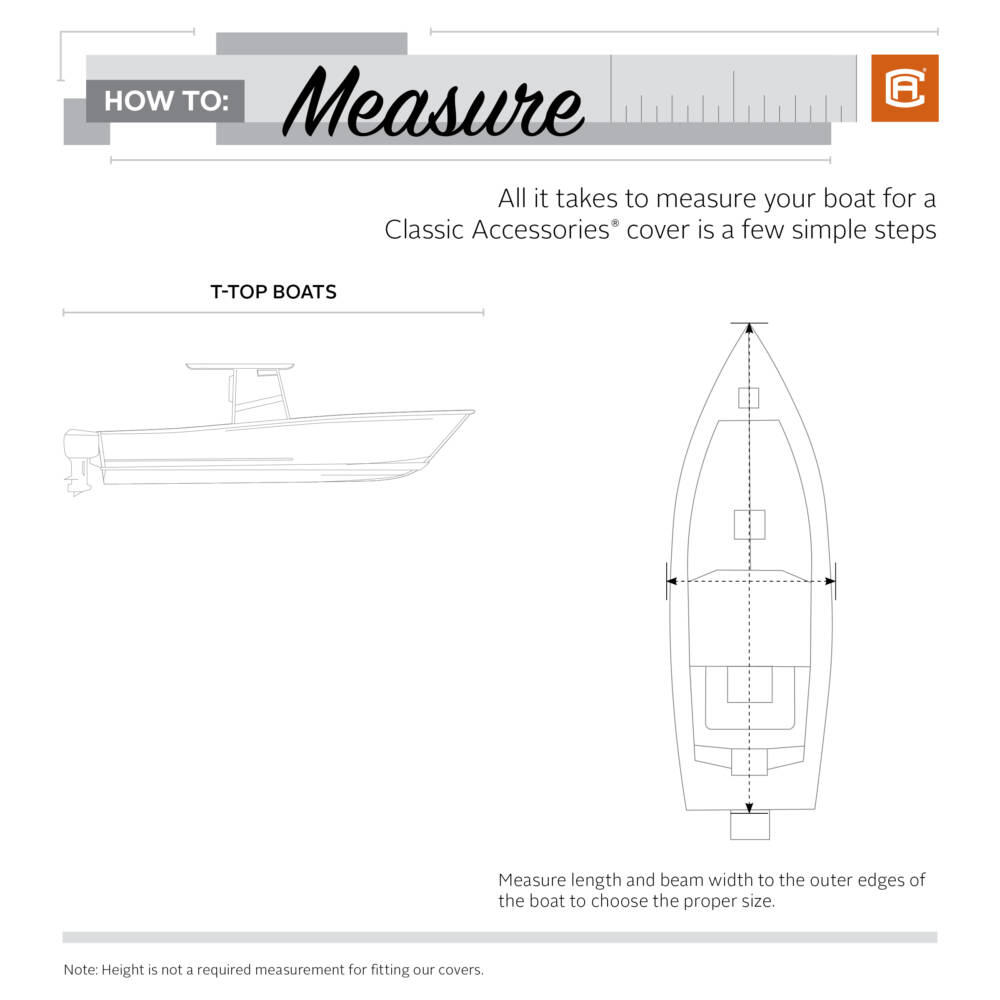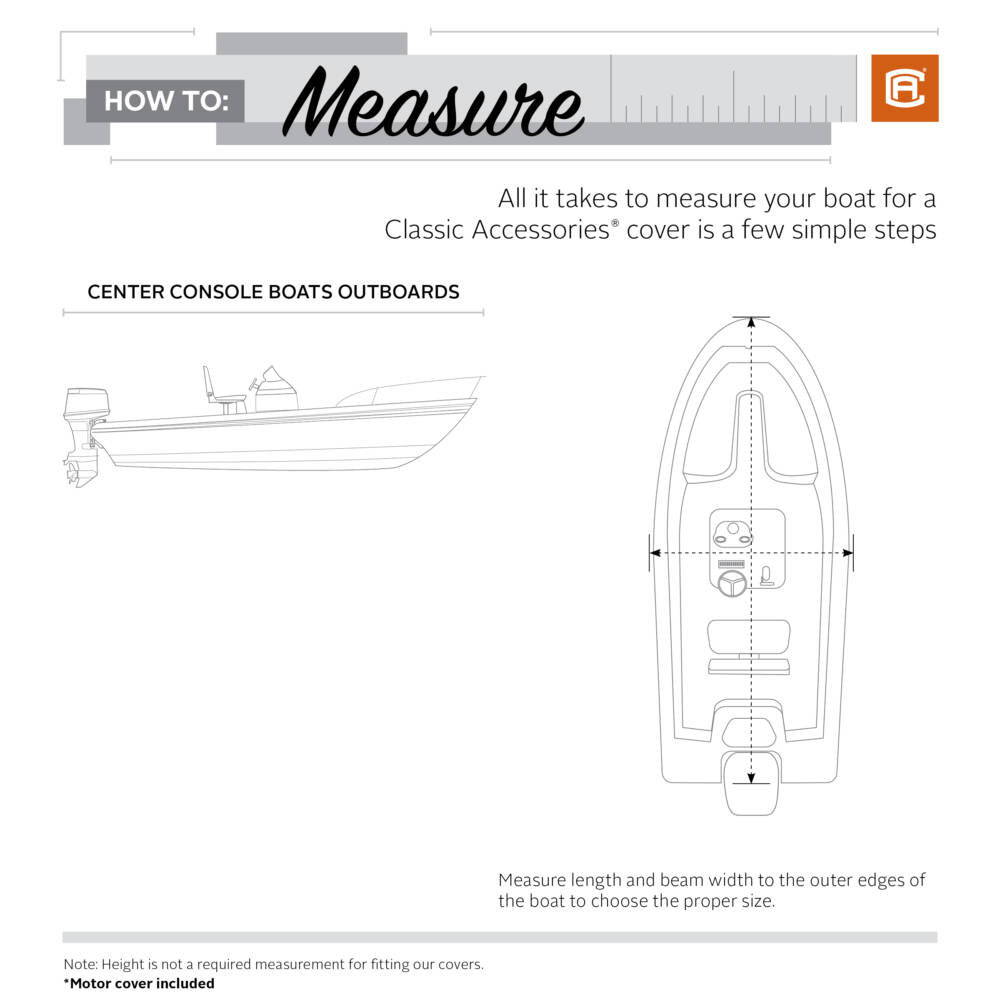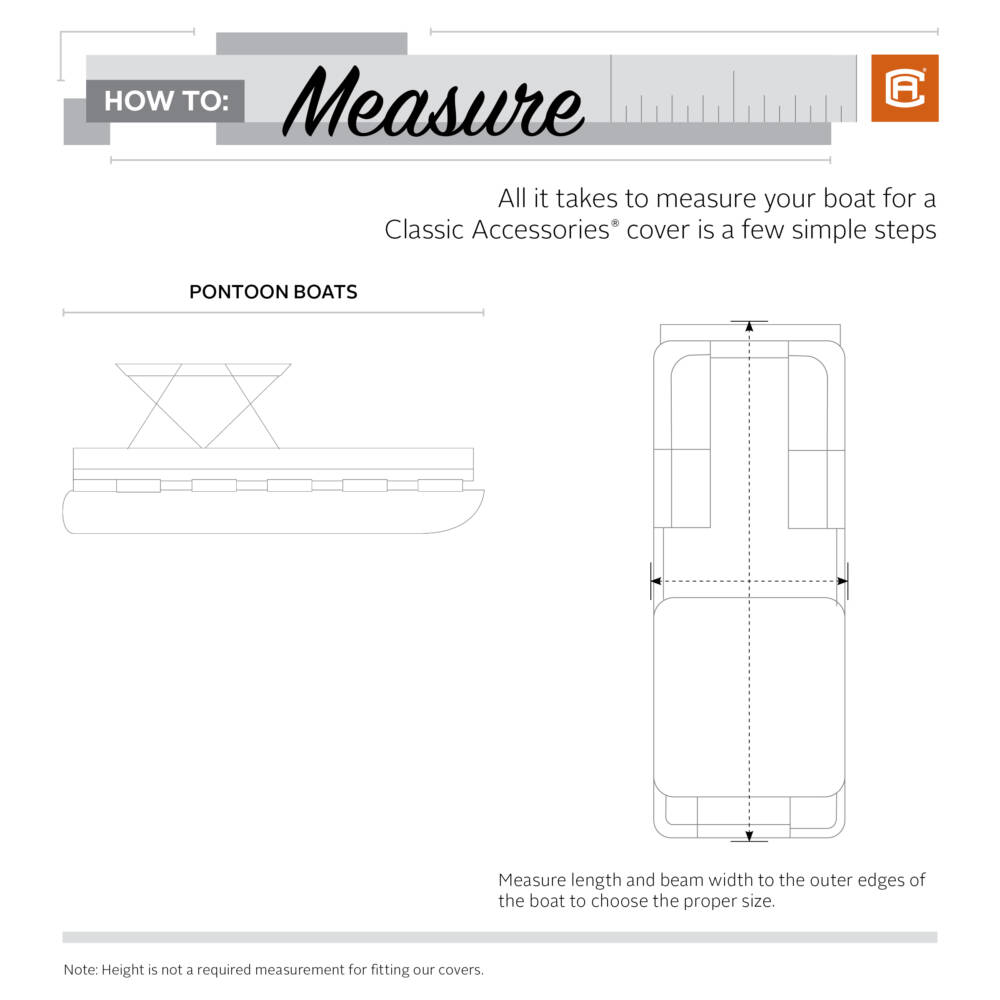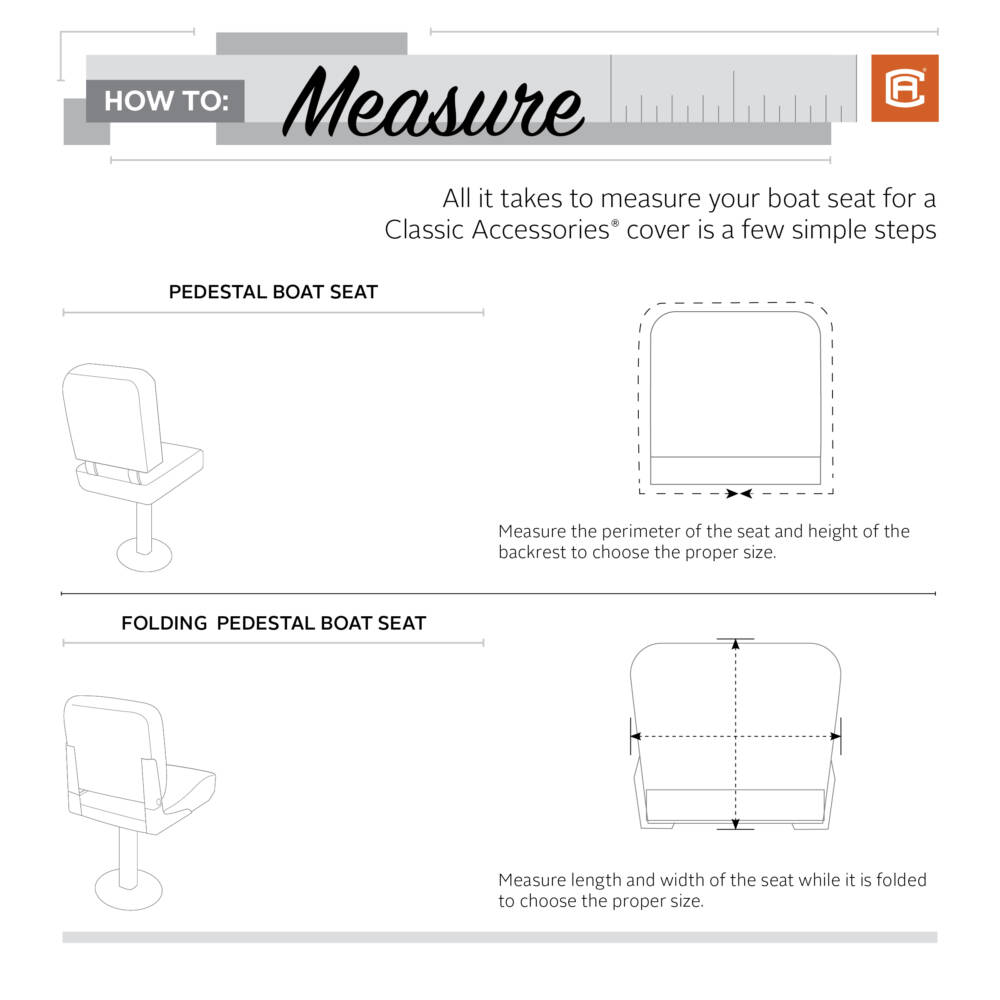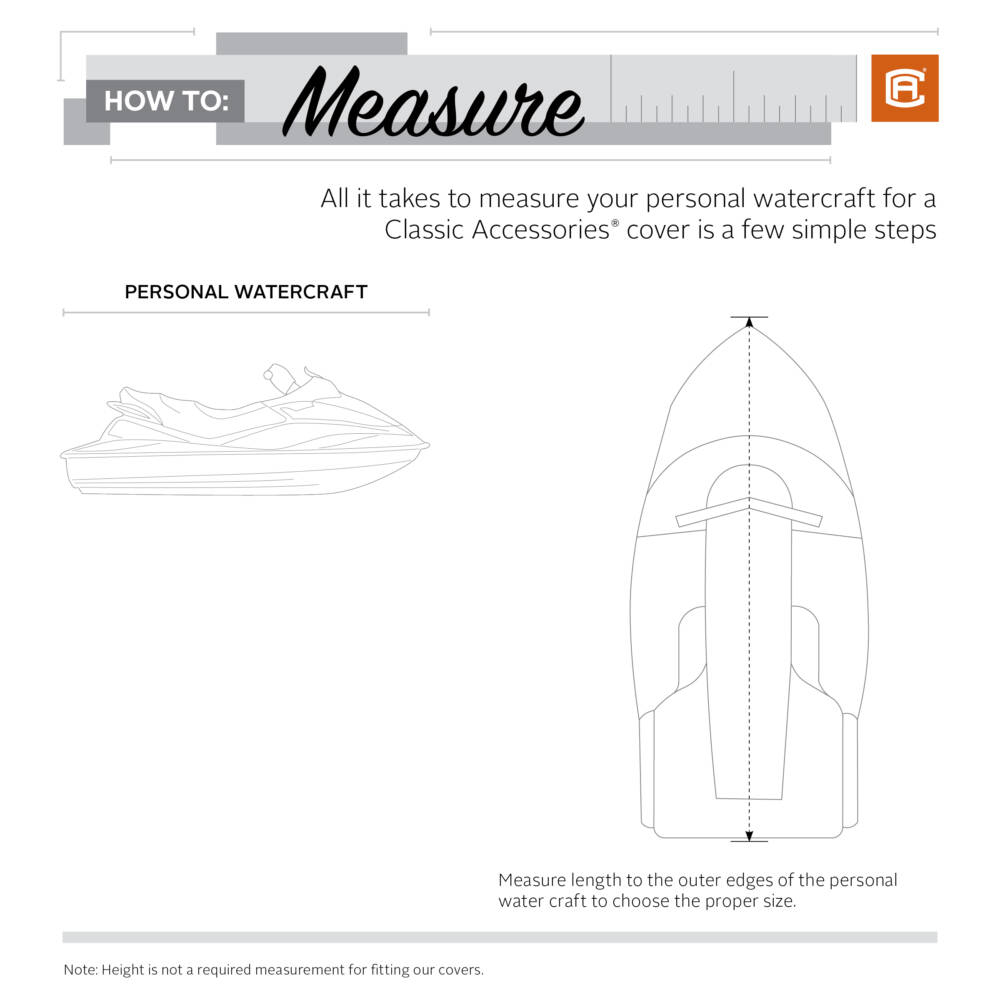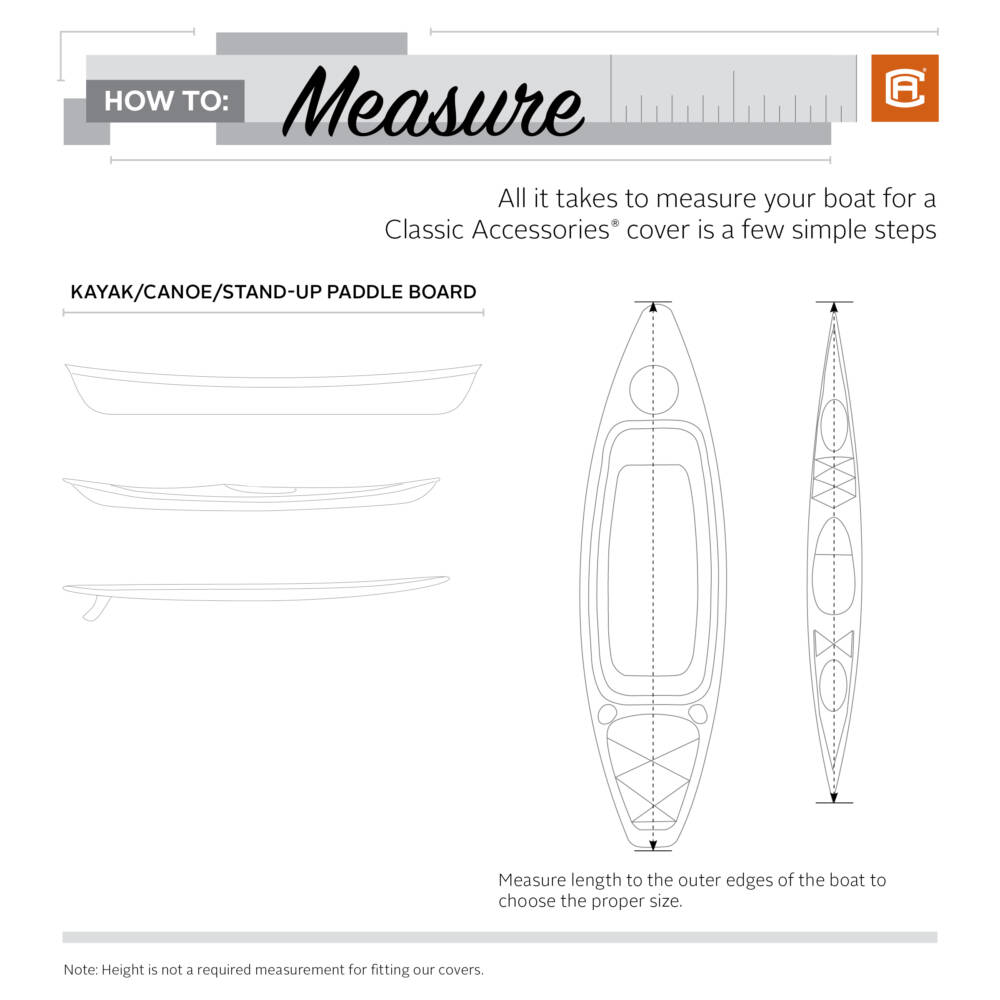 Fish, Ski and Aluminum Bass Boats
VHull Runabouts, Outboards
V-Hull Ruanabouts, Outboards and I/O, or Aluminum Bass Boat
Kayak, Canoe and Stand-Up Paddle Board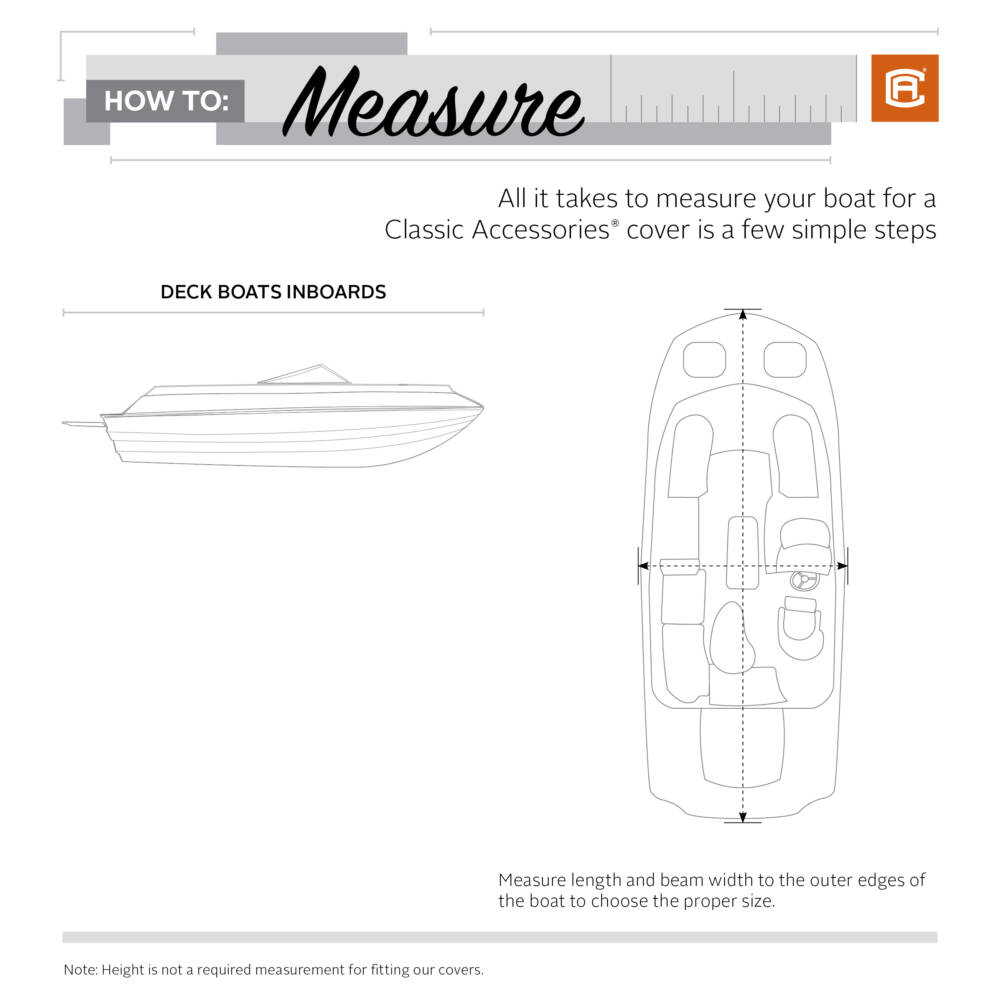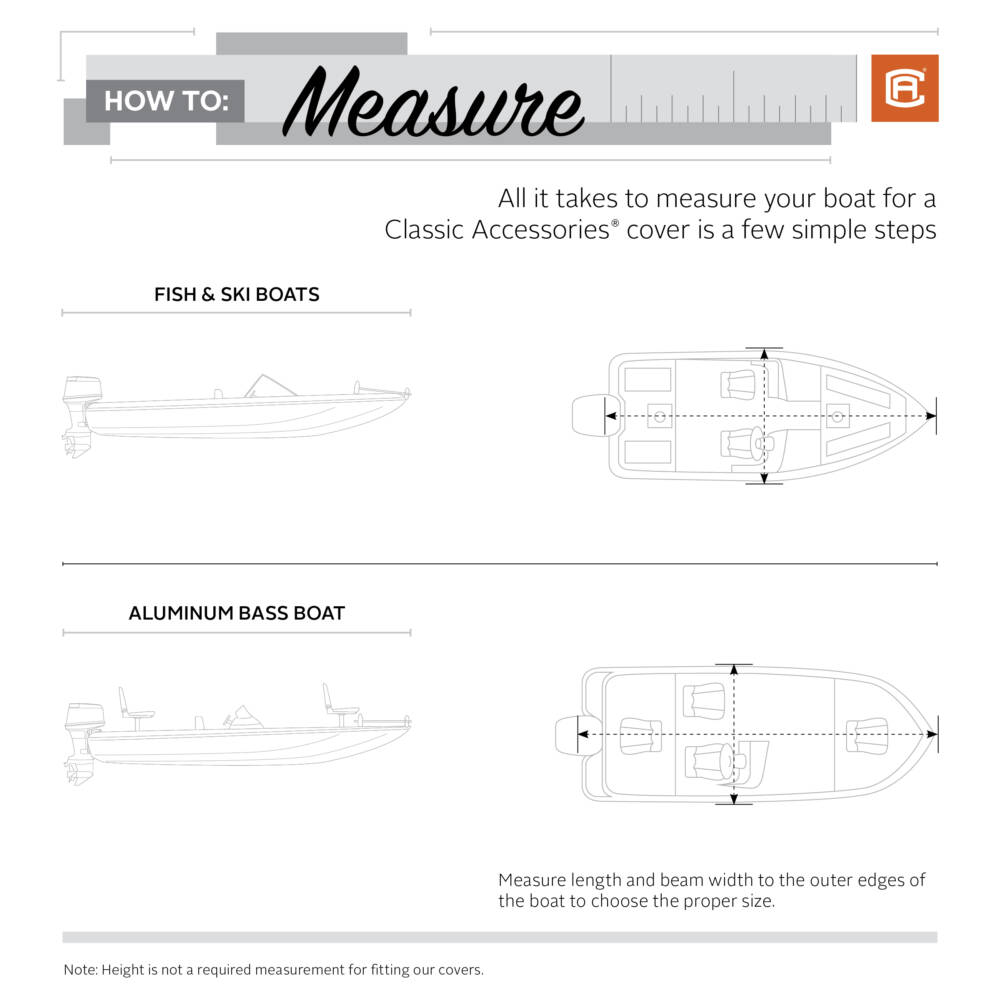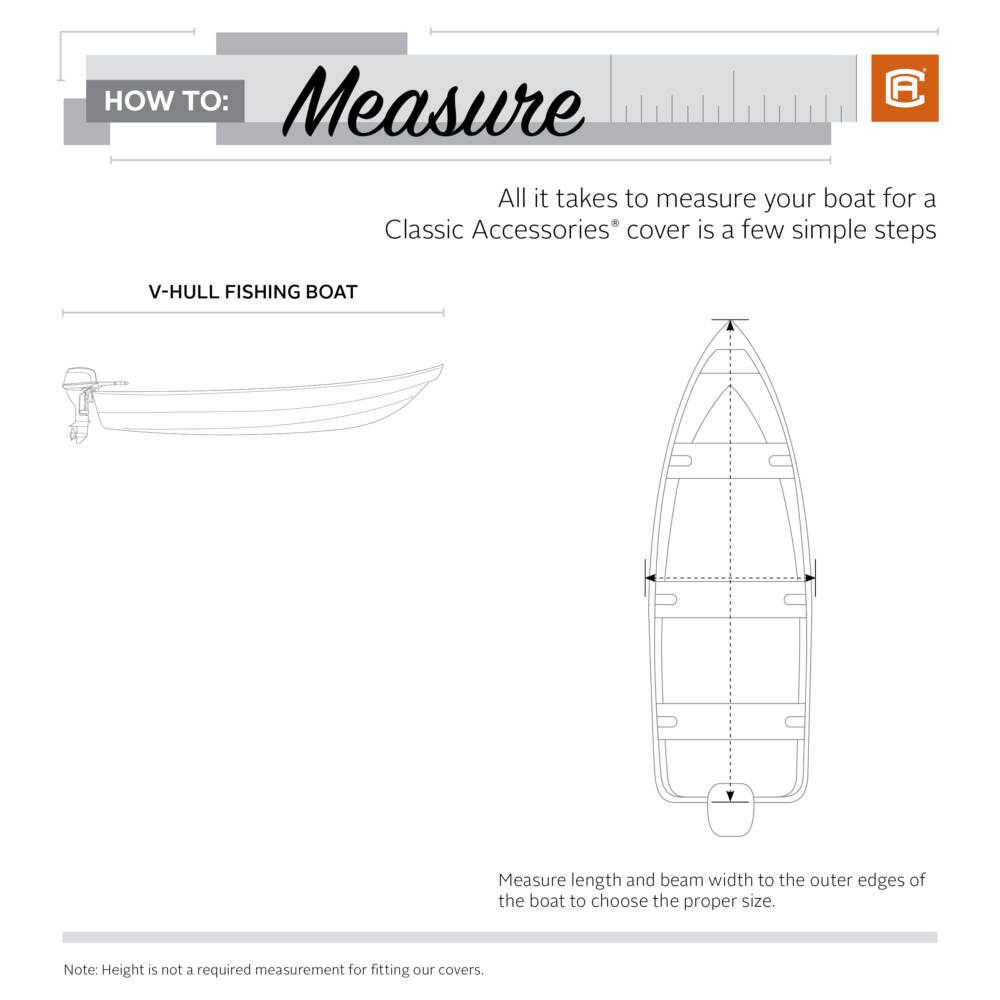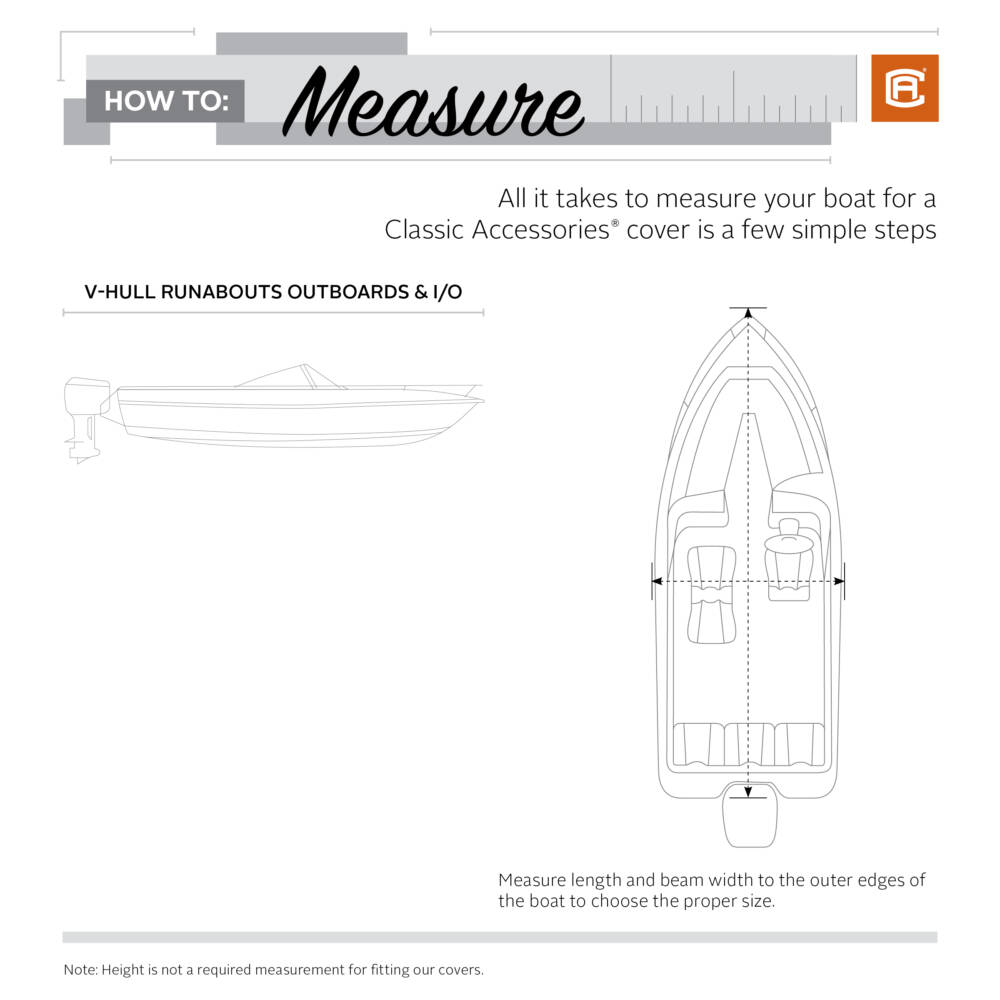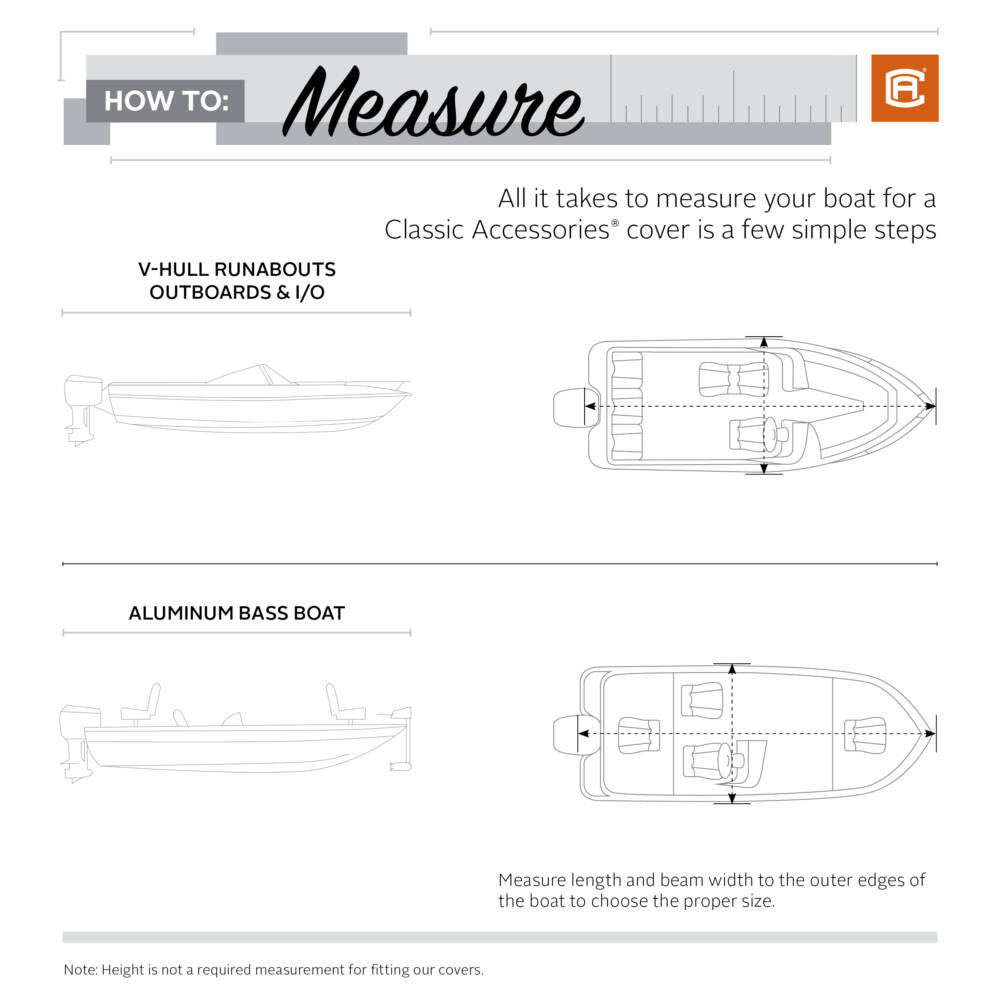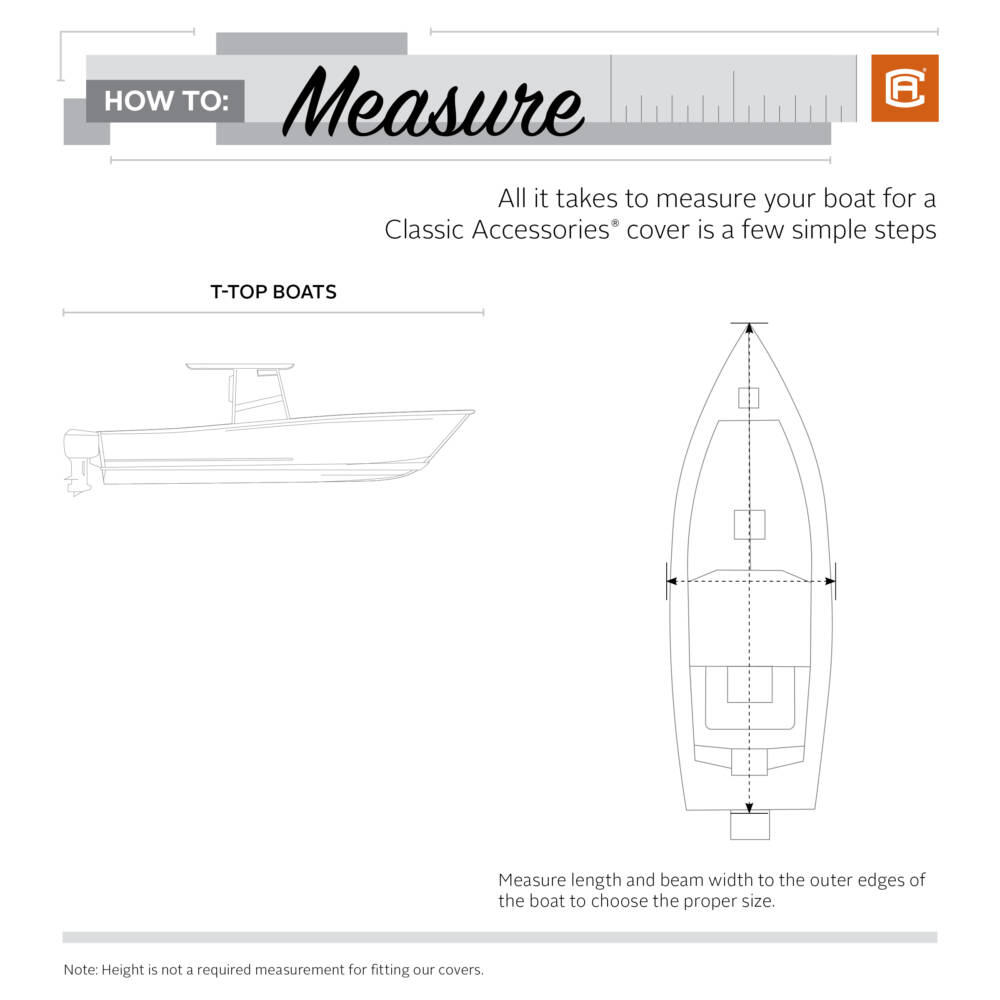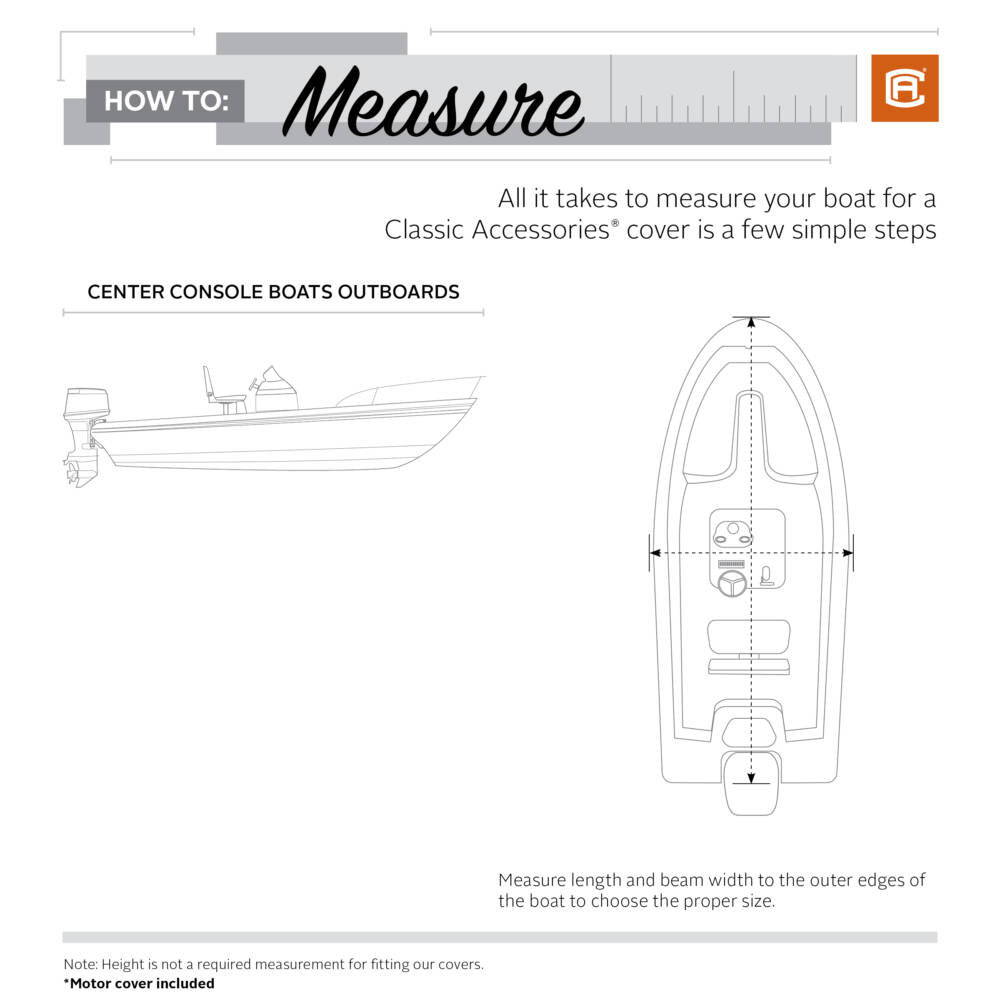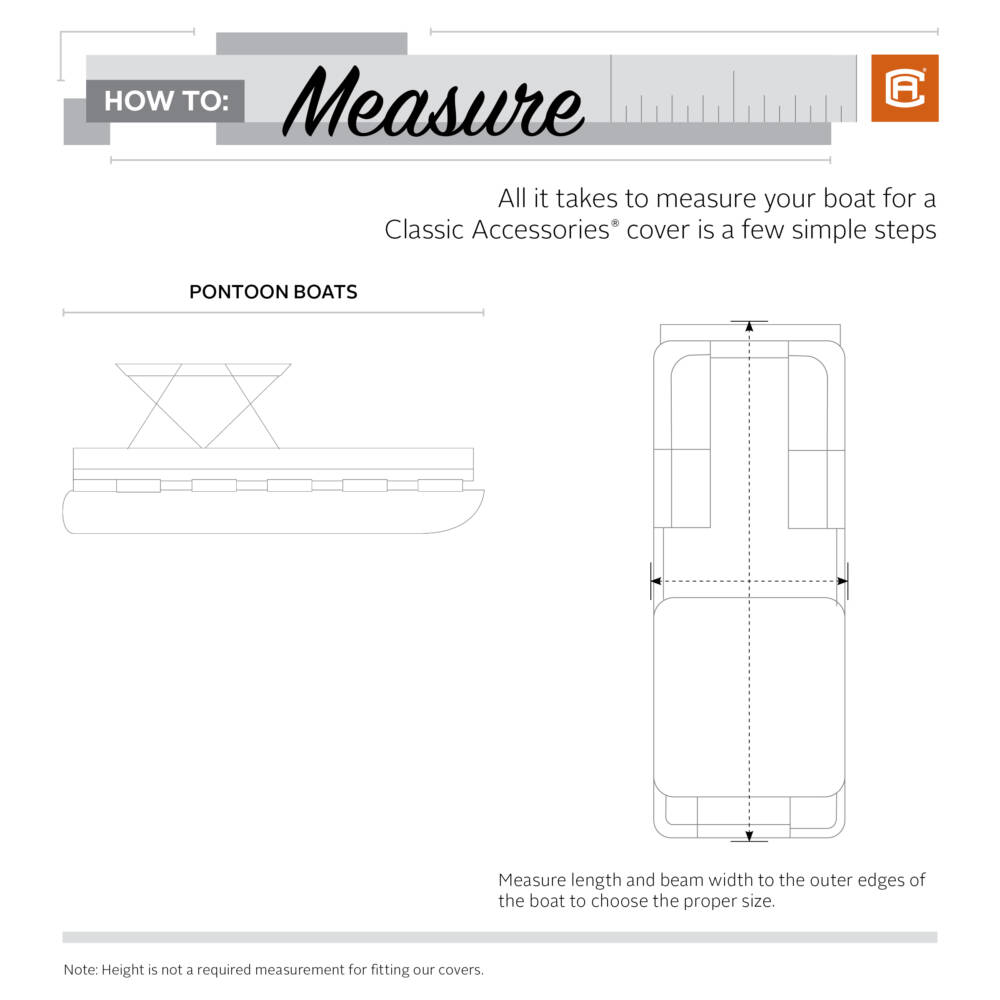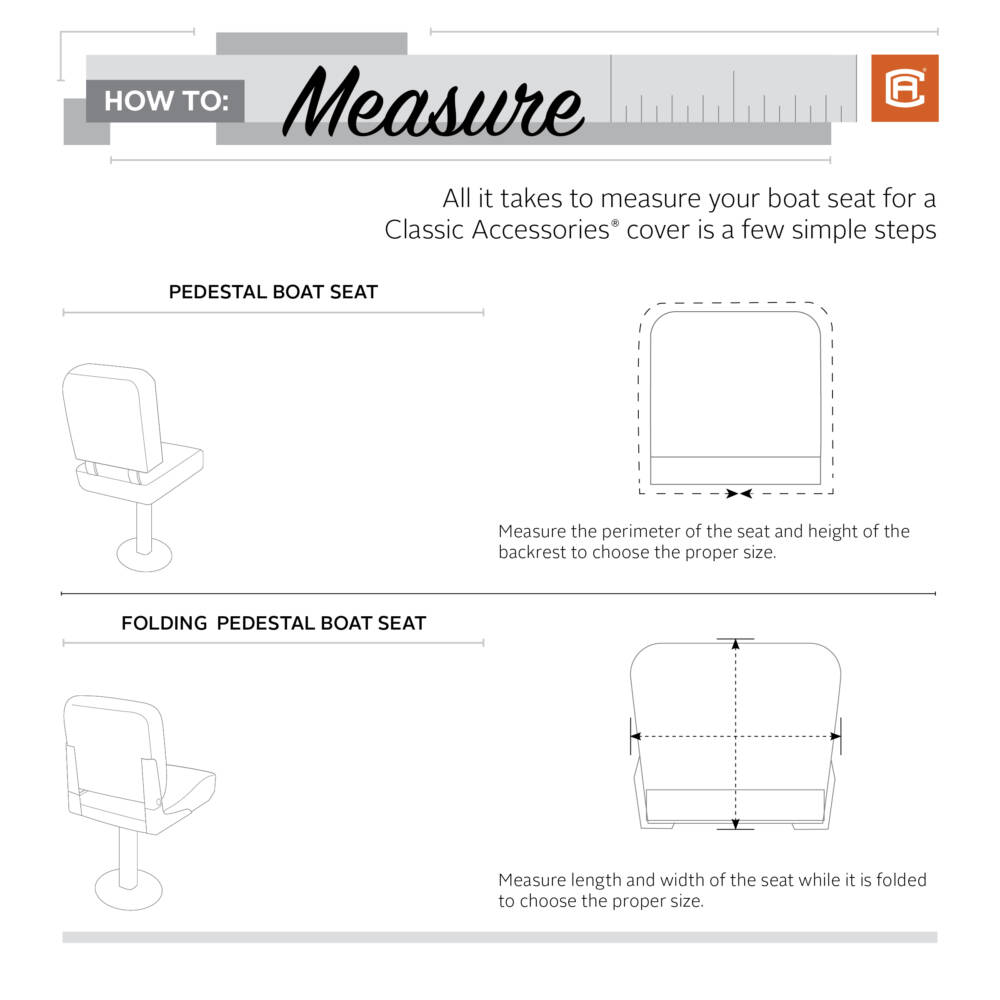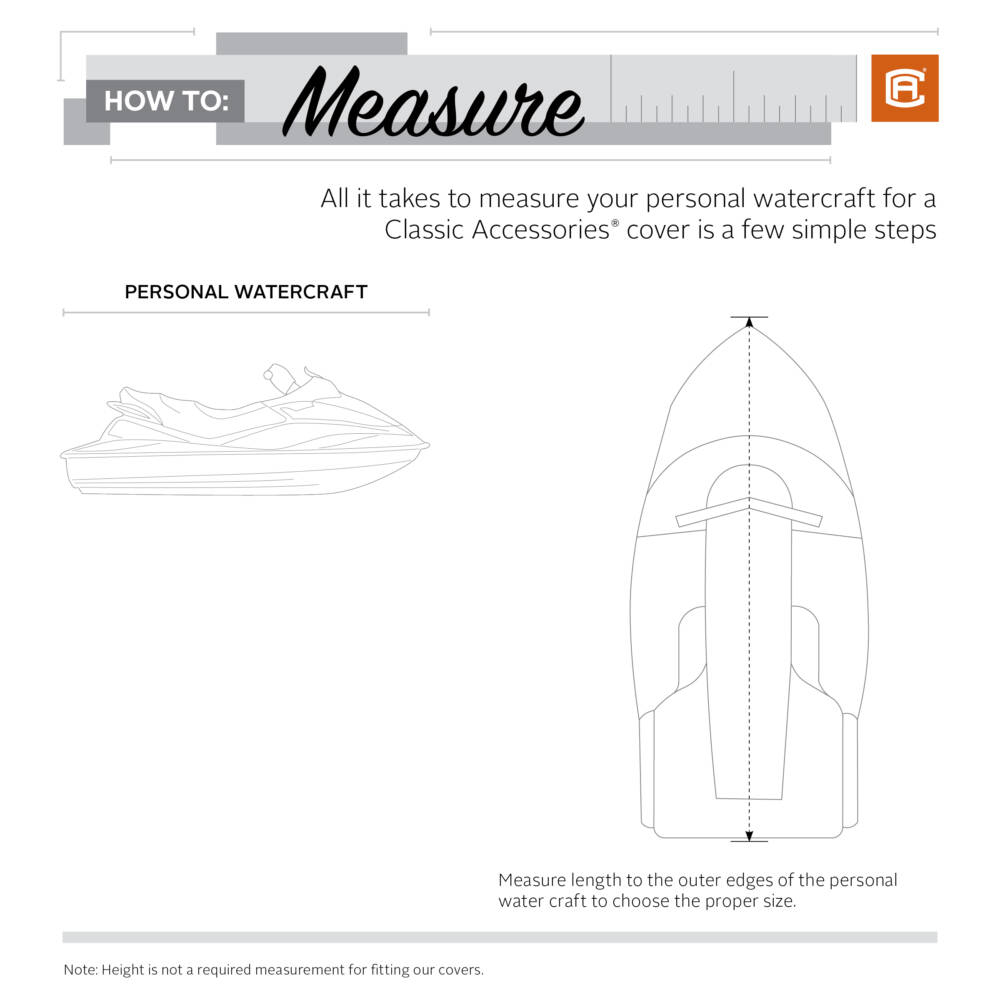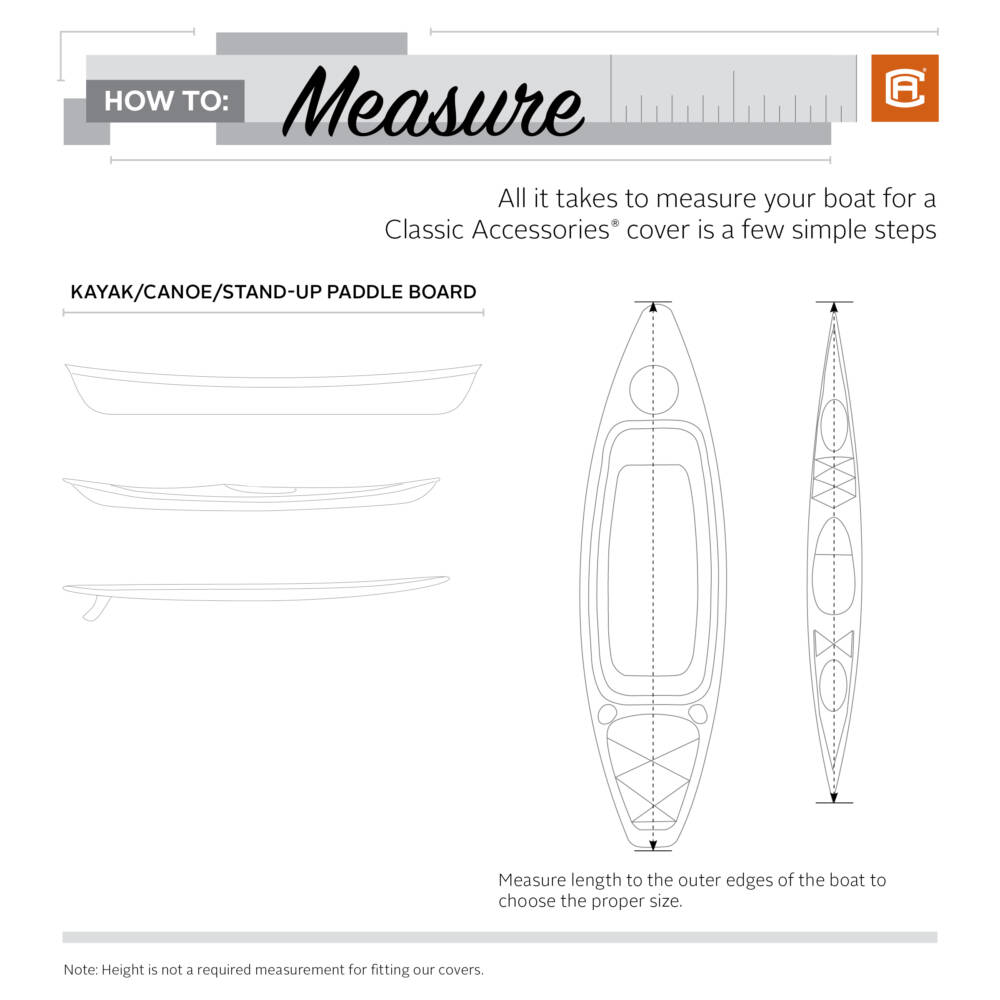 Note: It is important to
---
Please feel free to reach out to one of our helpful Customer Service Representatives at 1-800-854-2315 Mon – Fri, 7:30 am to 4:00 pm PST if you have any additional questions regarding any topic related to our products. The Classic Accessories website also has information regarding warranty, as well as FAQs.