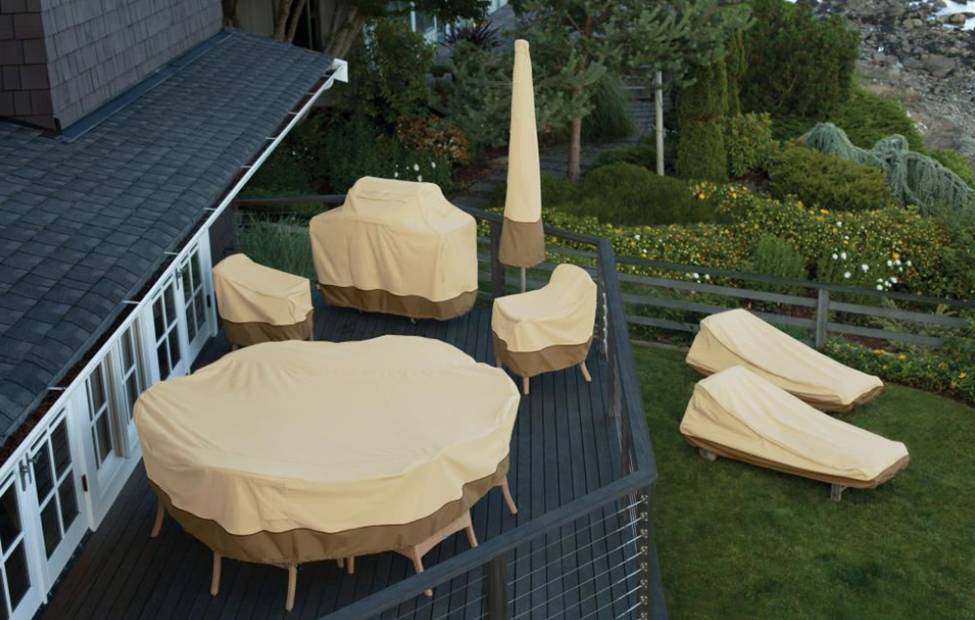 Okay, so if you're like us and have been updating your outdoor spaces this spring and summer, chances are you're wondering how to preserve your oasis throughout the fall and winter seasons. Not to worry, we have over thirty-five years in the outdoor industry and have a wide variety of patio furniture covers to choose from! Whether it's a new wicker club chair or an older BBQ grill that needs some love, you can find plenty of coverage for your entire backyard AND get covers that meet your specific needs.
Cover It All
If you're looking for a clean, cohesive look for all your patio furniture and outdoor equipment, we recommend the Veranda collection, pictured below: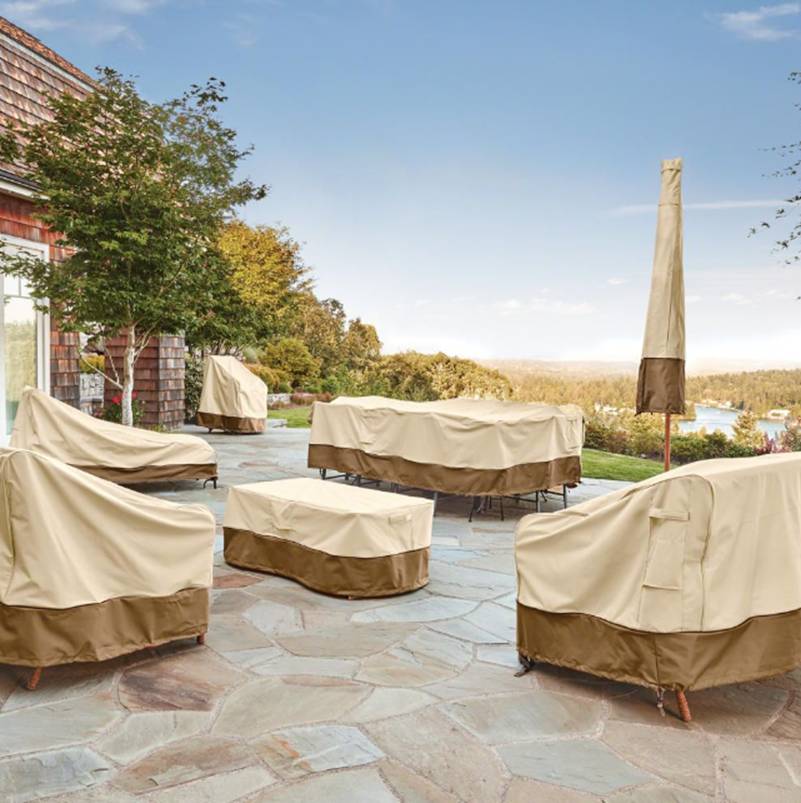 The Veranda line has the largest assortment of patio covers for outdoor furniture, from loveseats and chairs to firepits and log racks. The warm beige and brown colors look lovely in any outdoor setting, and these covers come with secure attachments, like click-close buckles, zippers, and adjustable hems for a customizable fit. These covers work best in areas that get rain, snow, and lots of wind.
If you live in a hotter, more arid climate, the Ravenna collection is a fantastic option. These covers are very similar to Veranda, but they have an added UV-resistant coating to help with sun fading. Ravenna covers come in a neutral taupe color which, depending on the light, can range from a warm brown to a soft grey tone (pictured below).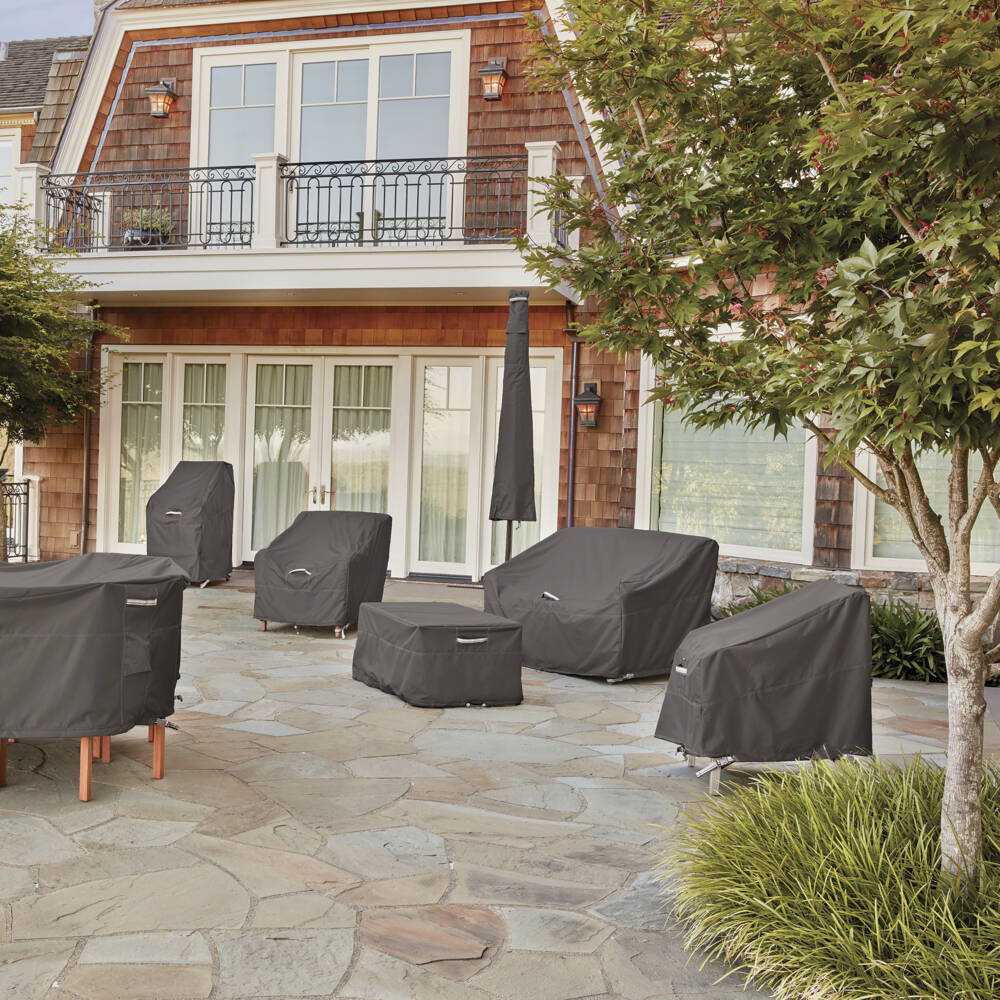 Both Ravenna and Veranda collections have matching storage bags or deck boxes, which are useful for winterizing your patio. When it's time to get your outdoor spaces ready for those rainy months, we recommend taking off all your cushions and pillows and storing them in a dry place, like a shed or garage.
How to Measure Your Patio Furniture
A common question we get is how to measure your patio furniture for the best fit. Typically, the best practice is to always measure the length and depth to the outer edges of your furniture. It's better to have an inch or two of extra room, rather than the other way around! Also, our furniture, grill, and equipment covers are not intended to fully cover the wheels or the legs. We do this so you won't worry about the covers dragging along the ground and collecting dirt.
When in doubt, check our website out! On each product page we include a carousel of images, including a 'how to measure' guide, so you'll know exactly which measurements are important.
Give Your Covers a Raise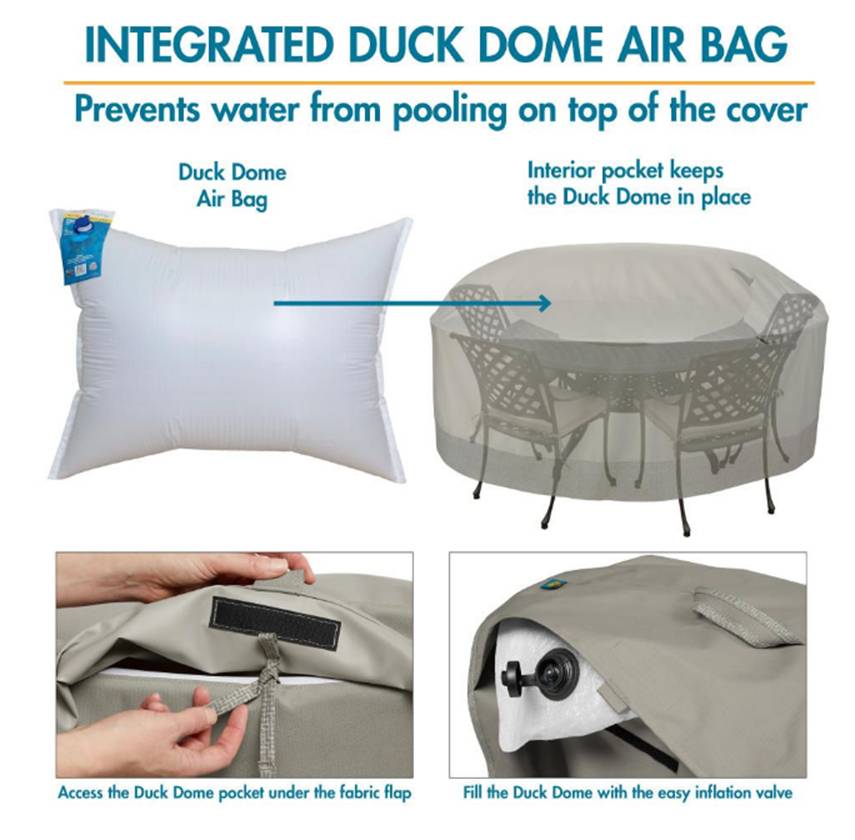 Finally, to keep your covers from collecting water or debris, we recommend ordering Duck Domes (shown above). Duck Domes are inflatable, durable air bags that fit underneath your cover and create a dome shape, letting all those pine needles, leaves, and rain slide off your furniture immediately. You can buy them separately or get covers with integrated Duck Domes too.
Need More Inspiration?
Sign up for our newsletter to be first in line for new outdoor patio furniture covers, tips on how to make your outdoor space beautiful, and get exclusive discount codes.