Why Cover Patio Furniture?
There are a lot of elements to your patio that make it your ideal outdoor space to do what you and your family love to do outside. Covers are useful for different patio components for reasons you may not expect. For more on the importance of covering your patio furniture, based on material, check out our earlier blog post, "All About Patio Furniture,"
Reasons to protect all of your patio furniture with a cover; a patio furniture cover….
Keeps out environmental nuisances
Wind can blow dust, dirt, and debris against your gear, causing weathering and scuffing. A cover is a layer between your furniture and the elements, and can limit the accumulation of dust, pollen, and leaves directly on your favorite items. Note: Covers are just part of the patio furniture cleaning process. Always refer to your care instructions for the most informed methods of cleaning and caring for your furniture.
Maintains your patio's aesthetics
Covers provide a tidy, and pleasing look to your patio even when leaves or pollen are around, even more than the potential damage from such materials, covers make for a quick cleanup for that one-day-it-happens-to-be-sunny-and-we-need-to-go-outside.
Note: While covers are a wonderful way to help protect your patio furniture, due to nature of the materials in covers, there is a risk of plasticizer migration-a chemical reaction between the materials in the cover and certain furniture materials. To prevent this from occurring, it is recommended that you elevate the surface of the cover from large points of contact (such as a tabletop). One way to elevate the cover would be by using a support pole.
Protects from UV rays
Direct exposure to UV rays can cause fading and material deterioration. Covers, especially those with UV treatments, can block some of the light that does the most damage, increasing the longevity of your product at its current exposure level.
Protects against water damage
Covers help limit water accumulation directly on the product, especially when the cover has water resistant or waterproof qualities. This can help prevent rust and corrosion. Standing water and moisture can lead to mildewing.* For optimal results, when using covers for extended periods, regular aeration and checking of your furniture is essential.
Note: for furniture with cushions, it is not recommended to leave the cushions on the furniture while covering the furniture. The materials that make up cushions need to breathe or you run the risk of creating an environment for mold. Cushions should be removed and allowed to fully dry before being placed in a safe location, such as a cushion storage bag, indoors, for the season.

*Mildew (and mold) are fungi that occur due to the interaction between water and organic material. Covers are only able to help limit this and require some cleaning and ventilation, so that organic elements that have made their way onto your gear don't have a chance to grow.

Prevents pests
Rodents and other critters are known to burrow or make nests in your patio furniture, including grills, heaters, and such. Covers can make it more difficult for critters to find these items and nest in the crevices therein.
Provides a cost and time savings
Investing in a cover can reduce your time and cost spent on maintenance and repair, likely reducing the frequency at which you need to replace your favorite patio furniture.
Reduces cleaning time
By protecting your patio furniture with a cover, you will not have to spend as much time cleaning your outdoor equipment at any given time of the year, because you've limited the nuisances that make their way onto the surface of your furniture.
Why Cover a Grill?
Grills are real investments in your outdoor space. They act as an extension of your kitchen, bridging the gap between the dinner table and the patio table. Don't leave your grill to face the elements alone: cover it.
Let a cover take on the direct weather and UV damage you see in a season.
Here are some specific advantages to investing in a grill cover. A grill cover:
Keeps out dust and debris
Dust and debris in a grill can cause a number of issues, including unsanitary cooking conditions and fires in catch pans. Regular grill maintenance is the best way to keep your grill sanitary and make sure it lasts. Covers help keep some avoidable nuisances (pollen, leaves, etc.) from accumulating on the surface, especially in the off season, when you're using your grill less.
Helps avoid grease runoff
Since covers help limit your exposure to dust, debris and rain, these elements are less likely to fill up the grease catch pan, generally located below the main fire box. Overflowing of this pan can cause grease to end up running onto your patio and ruining it. As a note, the cover only helps prevent outside elements from entering the pan; it won't prevent the grease pan from filling up from grilling/grease and still requires regular inspection and cleaning.
Keeps critters out
Believe it or not, even grills are susceptible to pest problems. Birds, small animals and spiders making homes in uncovered grills or smokers is a potential risk. Covers are just one way to reduce the chance for nesting to occur. Note: avoid buying felt-lined or flannel-lined grill covers since mice and squirrels can use the fabric for nesting, according to thespruceeats.com.
Protects the grill's accessories
Grill accessories, like side tables, tank doors, and controls, are commonly made with cheaper metals than the main body of the grill is made with, and so are more susceptible to the elements. Covers take the brunt of the elements so these items don't have to.
Why Cover a Dining Table Set?
One issue that tables may face (more so than other patio furniture) is warping (primarily due to the table's size). Covers can be a useful tool because covering:
Helps avoid warping in wood
Adding a cover to your wood patio furniture can reduce water and humidity's ability to warp wood
Important note: Most covers and concrete do not mix. The layer within covers that helps prevent water from seeping through is reactive with concrete and can cause the cover to stick to the surface. Please do not cover any concrete furniture with a cover.
Why Cover a Fire pit?
Avoids dampness during use
A cover will prevent your bonfire with friends and/or family from being ruined by rainfall the night before, or even the day of but helping keep excess moisture off of your charcoal, wood, or the general surface of the fire pit.
Why Cover a Stand-up heater?
Prevents pests
As mentioned, covers help keep critters out of small spaces. This is especially true of stand-up heaters.
"I cannot tell you the make and model of my patio heater, but I can tell you that dirt dobber wasps love to fill the tube that carries the pilot light gas up to the burner every year. To clean out the hardened mud requires that I almost fully disassemble the patio heater. The Madrona Patio heater cover will put an end to this annual ritual (and a few expletives). The cover is easy to install. It has a quality zipper around the heat reflector on top and a very long quality zipper from the bottom to the top. A draw-string along the bottom seals the patio heater from most pests, including mud dobber wasps. The fabric is a crayon brown canvas that complements most deck decors."-9acresofwoods from Auburn, GA
For more customer regarding covering outdoor heaters, check out these reviews on our Madrona RainProof Stand-Up Patio Heater.
Why Cover the Seating?
While the advantages of covering seating is largely the same as most furniture items, such as resistance to water, protection from debris, and protection from UV damage; however, it is important to note the added benefit of having these protections for the place you plan to sit. Nothing ends the party early like sitting on bird droppings or being the person who finds the first puddle. With chair covers, you know that your chairs are much more likely to be ready for occupancy at a moment's notice.
Why Cover an Umbrella?
Covering your umbrella may seem unintuitive; umbrellas are for covering, right? However, it is an underrated way to lengthen your umbrella's lifespan. Covering your umbrella helps prevent damage from water, dust and debris, and UV rays.
Why Cover an AC?
Helps prevent coils from freezing
According to All Systems Mechanical, if there is heavy rain or snowfall that gets into your AC unit and then freezes or refreezes, it can damage the unit's coils, which maintain the cold air in your household. A cover can limit unexpected accumulation in these units.
---
How to Measure Patio Furniture
For a Cover
Includes: BBQ + Grill, Cooling, Dining + Table, Heating, Hot Tub, Seating, Sectionals and Patio Groupings.
Measuring your patio furniture can be a tricky process, after all there isn't a set way to call out dimensions for furniture and sometimes what's on the package doesn't seem to match up with what you have on hand. Measuring your furniture as it sits on your patio is recommended to make sure you find the best fitting cover for your furniture.
How to measure a Grill for a Cover
Grills can be tricky to measure for the right fit-if you have a specific question, please reach out to our Customer Service Representatives at 1-800-854-2315. We vote on trusting measurements you take yourself over the manufacturer's critical dimensions, which are not necessarily as accurate as they could be, or may (or may not) include accessories in resting positions.
Here's how to measure your grill for the right cover: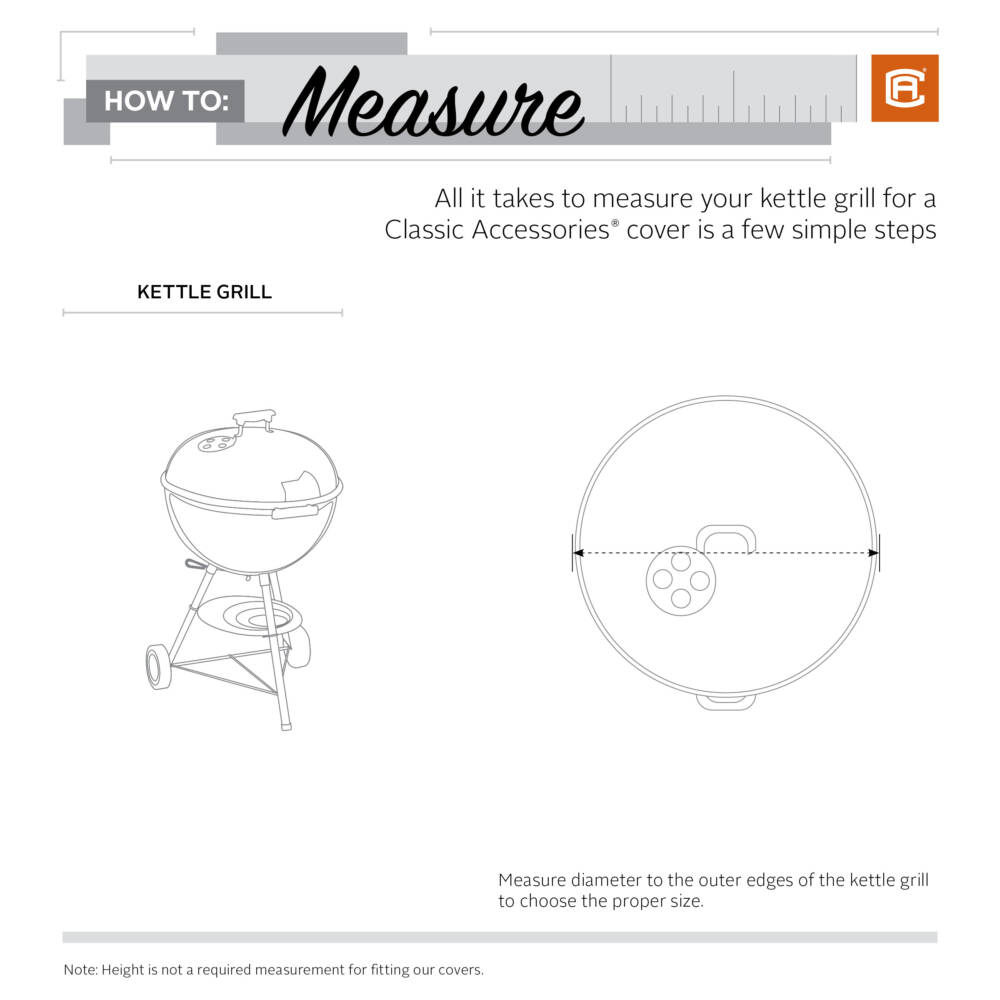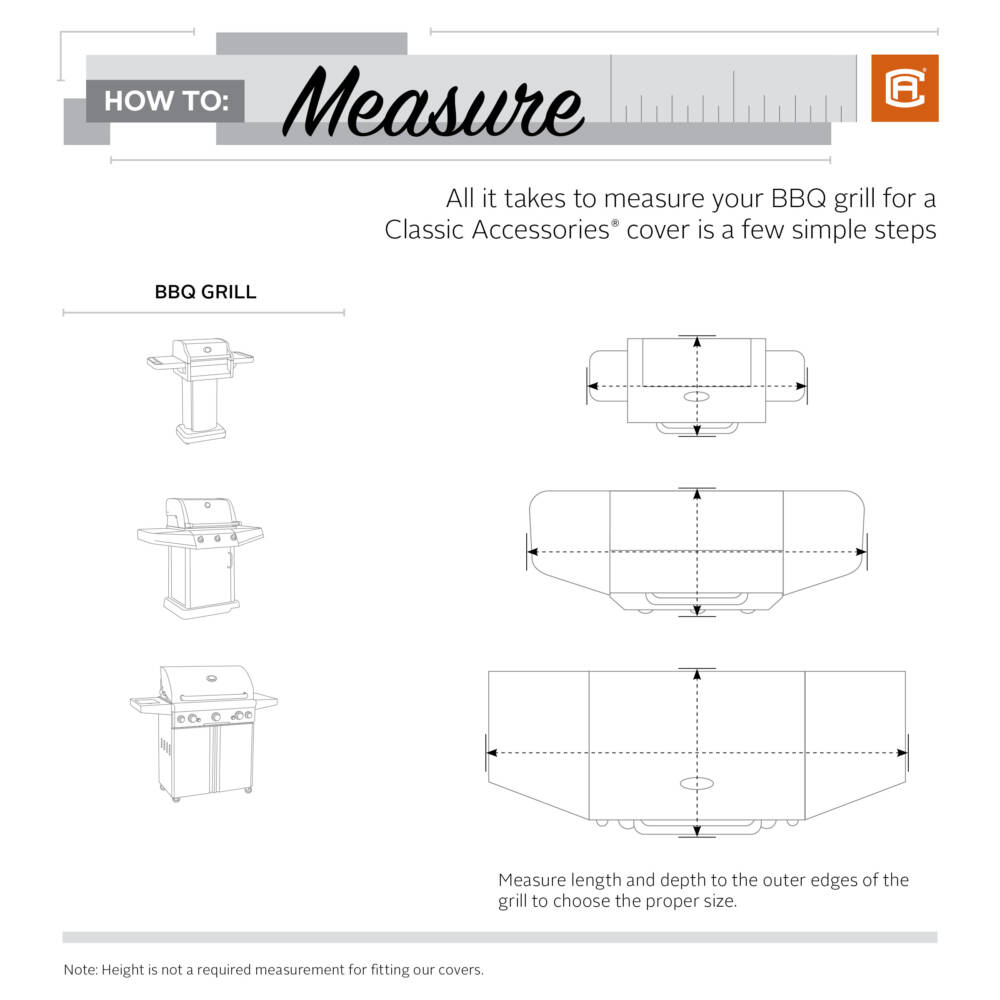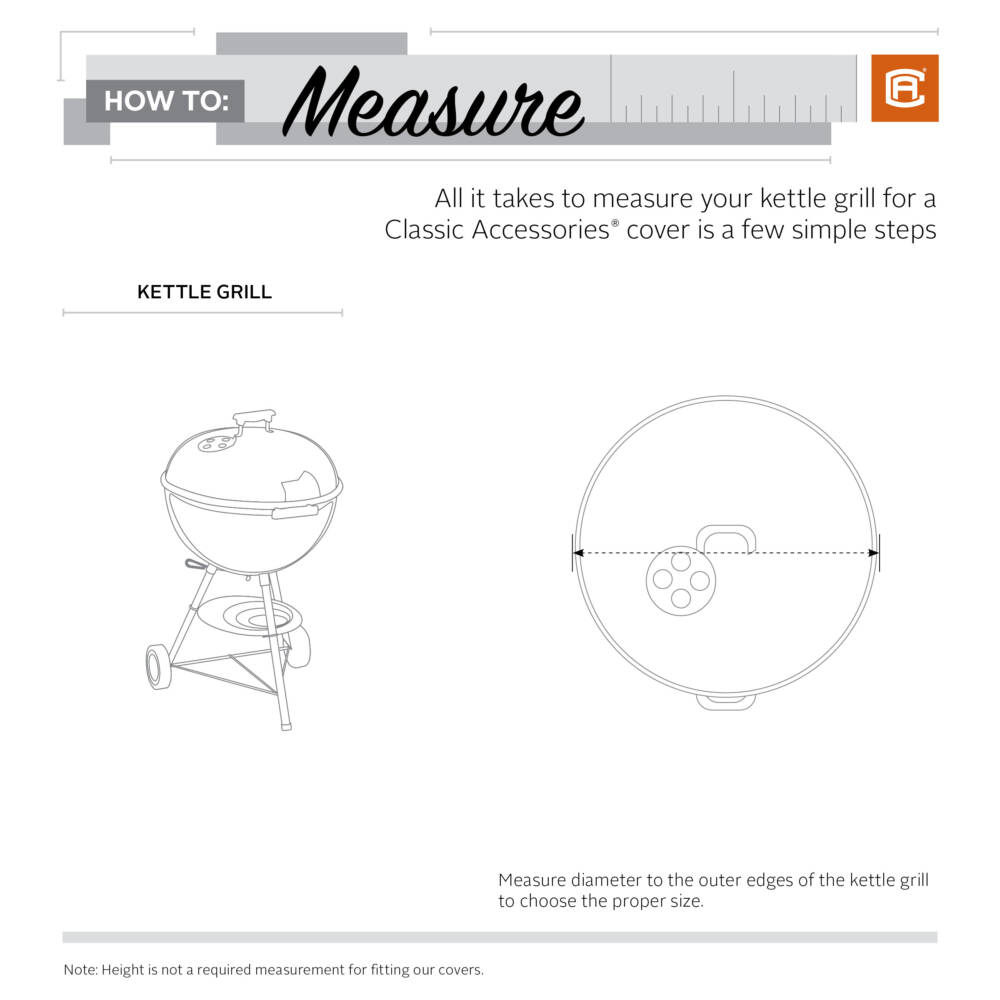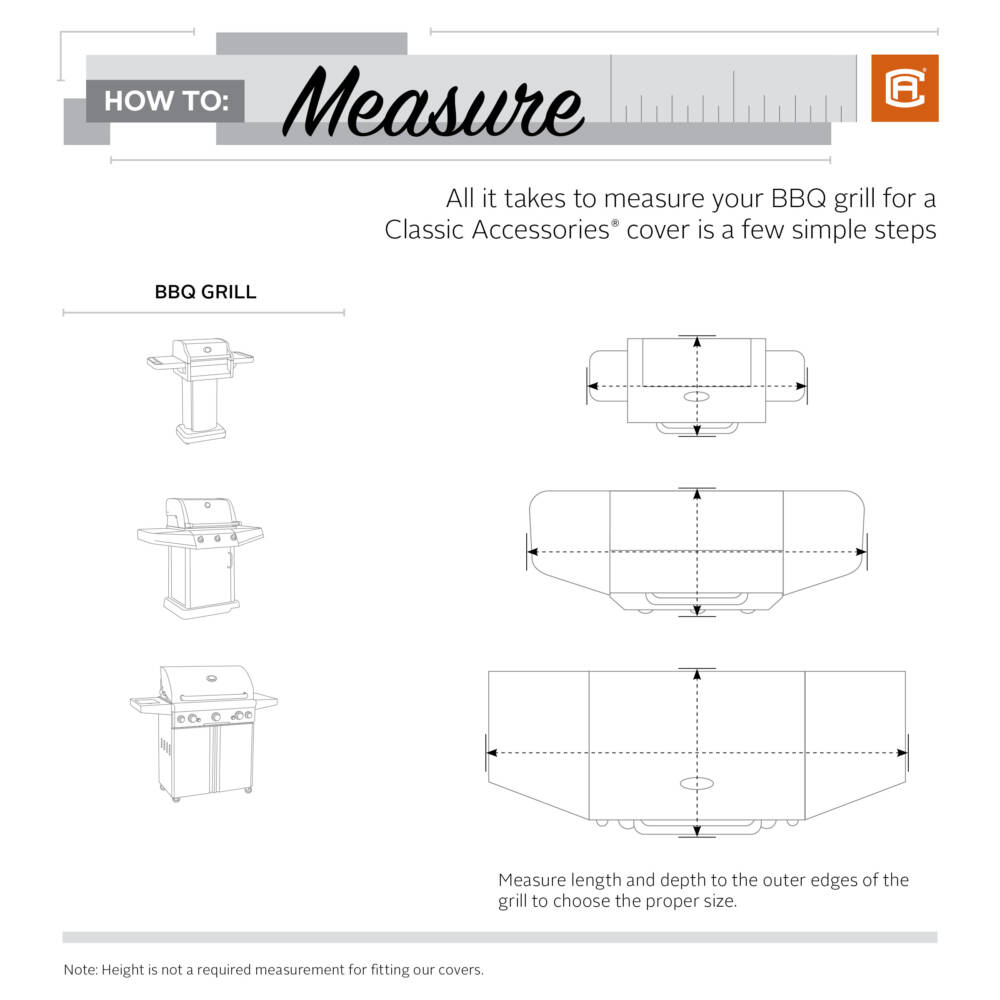 How to Meause an AC for AC Cover
Visit the cooling cover page on our website for more information.

How to measure a Dining Table Set for a Cover
Meausing your table and chairs seems like a no-brainer; however, it is important to remember that while the manufacturer may provide your tabletop's dimensions to you, a cover would fit over the table as well as the chairs around the table. Taking the time to measure the full length and width of the table plus chairs will make choosing the right cover for your patio far simpler.
How to Measure a Fire-Pit for a cover
The only point of contention when measuring your fire pit for a cover, would be for those of us who did not enjoy math or dimensional terms. The diameter of an object is the full width of a circle, from side to side running through the center of the circle.
How to measure a Hot Tub for a cover
Measuring a hot tub for a cover is simple enough; however, due to the size of the tub, please take care if you are measuring the dimensions by hand.

How to measure patio chairs for covers
We believe that patio chairs are diverse enough in their own right to get their own section here. One note: as far as Classic Accessories Covers are concerned, chaise lounge chairs are measured with their backs in a seated lounging position.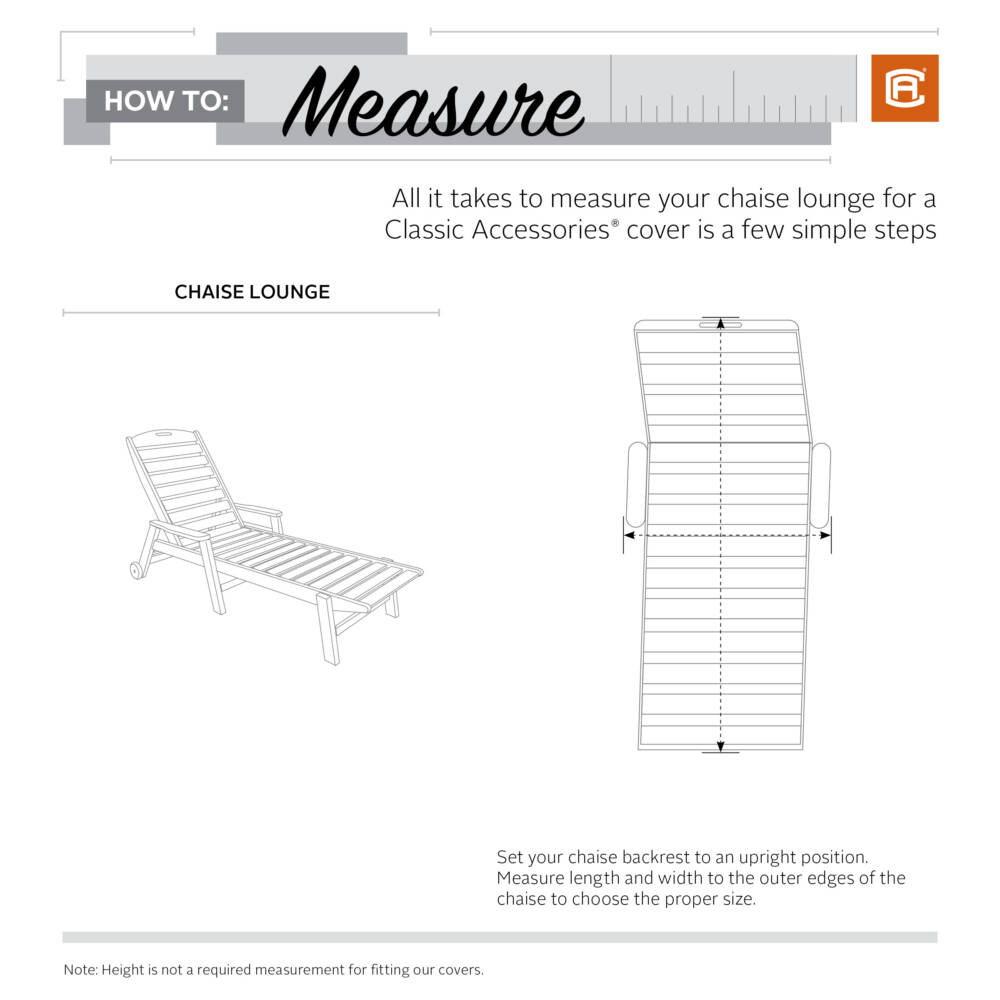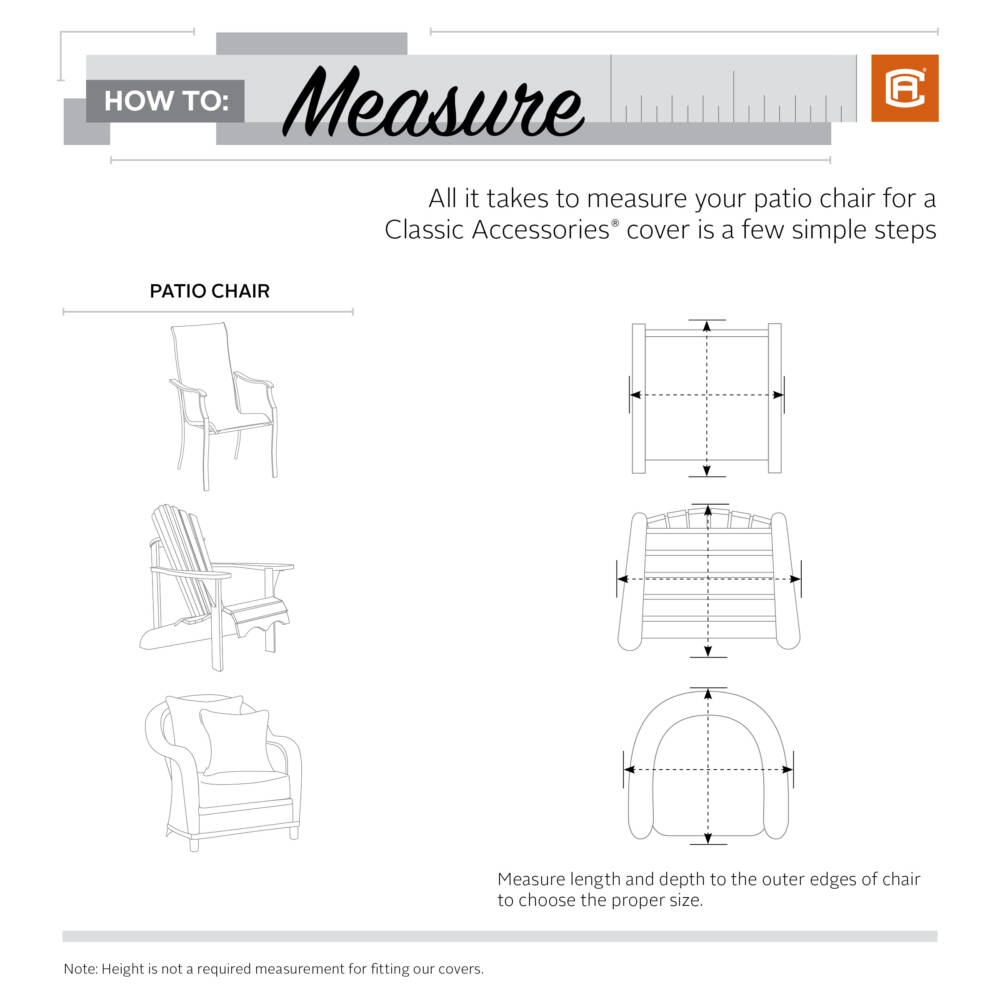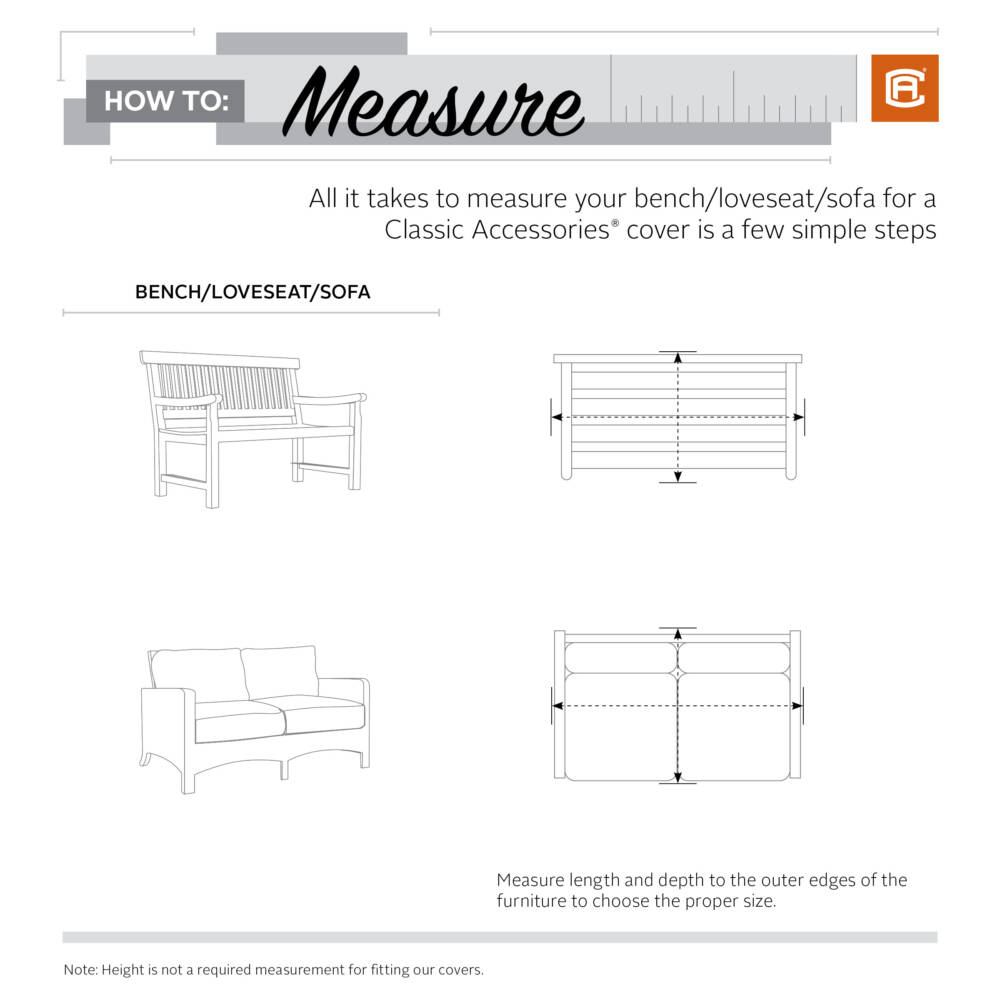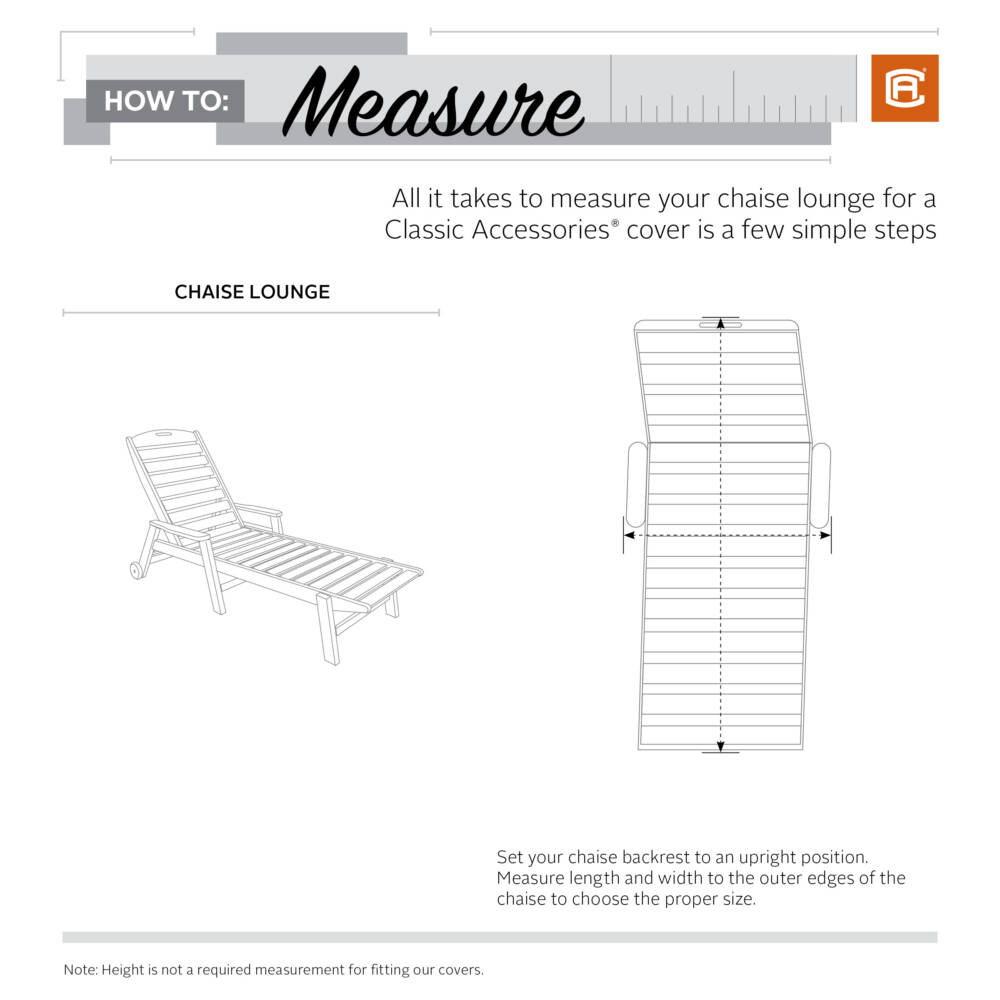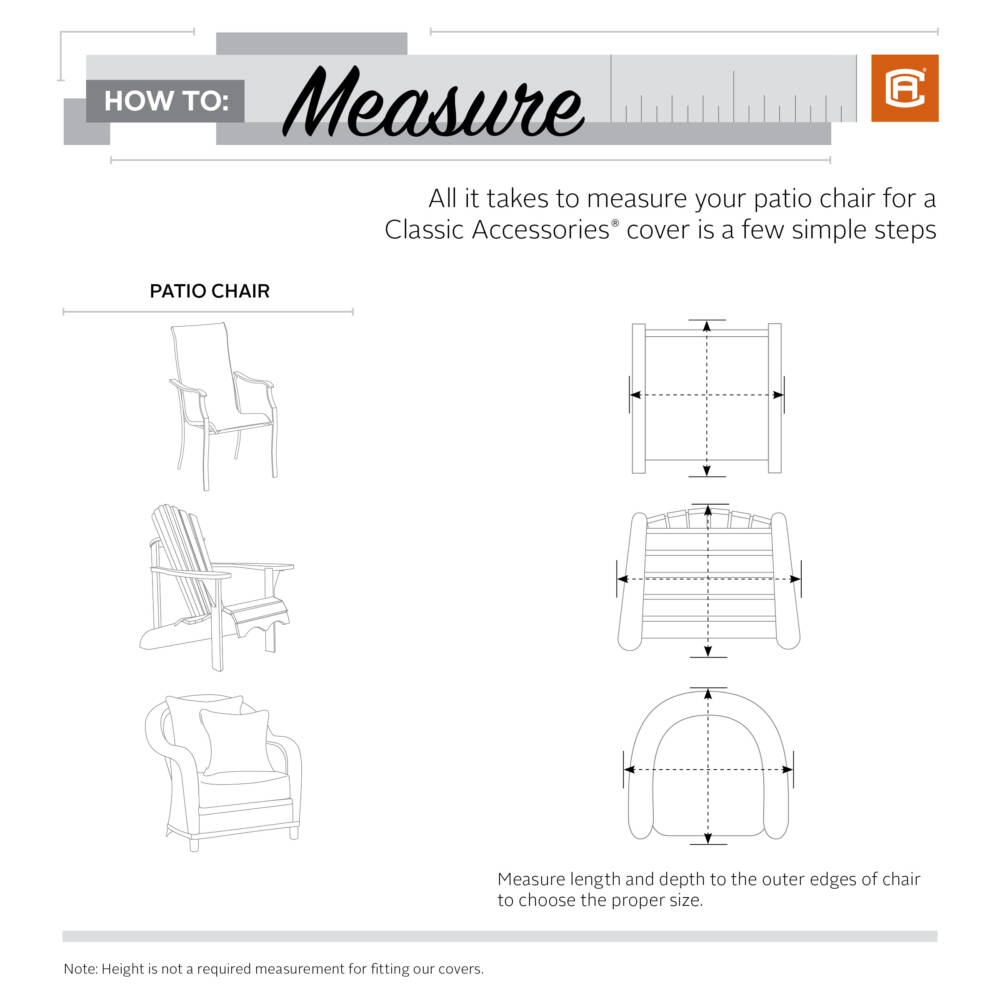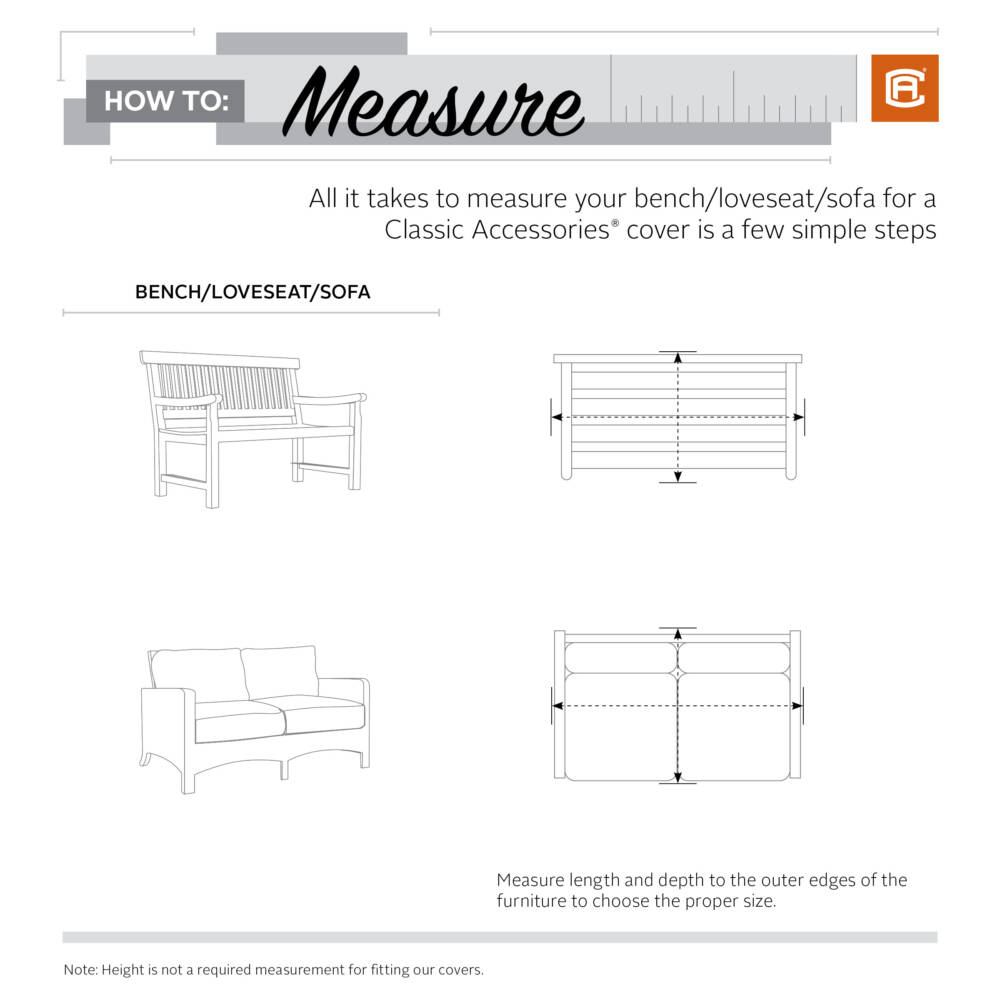 How to Measure Sectionals for Covers
Don't be intimidated by your sectional when you go to measure it for a cover. Having an assistant is a great idea for this large piece of your patio setup.
How to measure patio groupings for covers
If covering each element of your patio individually is not ideal for your situation, due to timing, furniture shapes, or patience, we have covers meant to go on top of a patio furniture group. It is a good idea to measure around the grouping in the shape it normally takes, or the shape you want to arrange it into for covering. While not arranging is simpler, and you should always take care when arranging furniture to avoid scuffing, it is recommended make sure there is enough under the cover, close enough together that the cover doesn't dip down excessively and pull your furniture with it.
---
Please feel free to reach out to one of our helpful Customer Service Representatives at 1-800-854-2315 Mon – Fri, 7:30 am to 4:00 pm PST if you have any additional questions regarding any topic related to our products. The Classic Accessories website also has information regarding warranty, as well as FAQs.